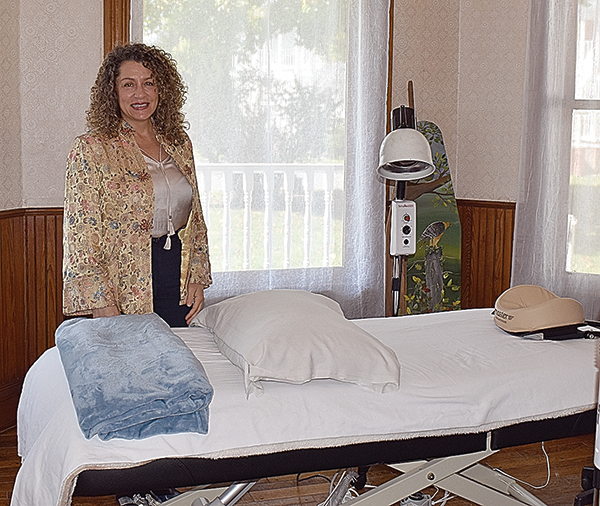 Suzanne Stewart
Staff Writer
For Doctor of Oriental Medicine Alex Paulhiac, the environment in which she practices her medicine is just as important as the treatments she provides. That is why she went on a quest to move her practice from the large city of Miami, Florida, to a place in the country.
As she searched, the universe led her to Mountain Quest, in Frost, where she set up her practice and is working, temporarily, as the innkeeper.
"It was a gift from the universe," she said of the location. "I love the tranquility, the peace, the energy. It just fits in perfectly. My patients can come and stay here."
It was important to Paulhiac to find a place close to or with its own inn because she still sees patients from other states and countries, and she wants to make sure they have accommodations during their treatments.
Paulhiac has been in the medical field for 24 years and began her practice with a degree in Traditional Chinese Medicine. She went on to get her doctorate in Oriental Medicine. While she is well versed in OM, Paulhiac said she specializes in three areas of OM specifically – acupuncture, neural acupuncture and ozone treatments.
"I specialize in neural acupuncture," she said. "It is just for neurodegenerative conditions. I treat very difficult to treat conditions in allopathic medicine and that is Parkinson's, speech impairments, PTSD, psychosomatic conditions from environmental toxins.
"All these conditions are extremely successful with neural acupuncture."
Unlike regular acupuncture, which uses small needles throughout the body, neural acupuncture utilizes a few needles in the top of the head which target portions of the brain to treat the aforementioned conditions, as well as pain.
Paulhiac has also had success using neural acupuncture to treat stroke victims and children with autism.
"There are conditions that I treat now with neural acupuncture that never even tried Traditional Chinese Medicine – such as Parkinson's and strokes," she said. "I never saw results, but with neural acupuncture, with one treatment, a post stroke patient can come in in a wheelchair and after treatment can walk and move their legs, that's how fast it is.
"I've treated kids with autism who have never spoken a word," she continued. "Again, a condition I would never treat with Traditional Chinese Medicine, but with neural acupuncture, in one treatment, they will speak. Granted, there are reasons for the child to have autism, it's not just a neurodegenerative condition, but I have had results with kids speaking for the first time."
Paulhiac's other specialty is Ozone treatments, which uses ozone gas to treat arthritis, pain and other body ailments.
"In addition to that, I'm also a national certified ozone therapist," Paulhiac said. "Ozone is a gas. It's a friendly gas. We have ozone in the environment. Ozone comes from an oxygen tank. Oxygen is O2, that gets sent through a generator that transforms O2 to O3, so now it becomes ozone and it is available to be injected in the body."
Depending on the condition of the patient, Paulhiac combines homeopathic products and nutrients with ozone to make prolozone which is injected as a treatment.
"It heals the tissues," she said. "I have a more than ninety-five percent success rate on treating and preventing knee replacements, shoulder replacements, hip replacements, because you're giving your body the ability to health itself using prolozone."
If the condition is severe, Paulhiac will combine prolozone with PRP – platelet rich plasma – in which she takes the patients blood, removes the plasma with a centrifuge, and mixes the plasma with the prolozone.
Prolozone can also be used to remove scars and burns from the skin.
"Many people have surgeries and they have awful scars or they have burns, so it can be removed with different procedures with homeopathic products," she said. "Everything with me is homeopathy. I only do natural products. For the skin, the products are injected on your skin to rejuvenate the tissue or on the scar to break away the scar tissue."
Ozone is also used in IV form to treat viral conditions, like COVID-19.
"Ozone kills the virus, fungus and bacteria in your system, and so it cleans your blood," Paulhiac said. "I always explain to my patients, receiving an IV treatment is like taking all the furniture out of your house and vacuum cleaning it. There's nothing left behind.
"You can breathe better because you are cleaning your blood," she continued. "You're also cleaning out fat in the arteries. You're thinking so much clearer because you're cleaning toxins, heavy metals, out of your system. Ozone is amazing. I love doing ozone."
Paulhiac said she enjoys treating her patients with neural acupuncture and ozone or prolozone and seeing the instant results.
"It's life changing," she said. "When one patient is in bad shape and that person gets better, the entire family changes, as well, because everyone revolves around the health of this particular person.
"I feel humble that the universe has given me the opportunity," she continued. "I always tell my patients it's my privilege to treat them. They come and they have hope, and they put their health in my hands. It's very humbling to me. I love what I do."
While Paulhiac is setting up her practice at Mountain Quest, she said that is the only change to be made at the facility. It will continue to provide the same services to the public, including guest retreats and dinners for local organizations.
For the time being, Paulhiac is using the Mountain Quest phone number – 304-799-7267 – for both the inn and her practice, until she can get a separate number for the medical practice.
The medical practice is open Monday through Friday and she is accepting patients at this time, with no need for a referral.
In addition to providing treatments for those with medical conditions, Paulhiac said she also provides acupuncture for anyone interested.
"You don't have to have a health condition to have acupuncture," she said. "By itself, it's extremely relaxing."
With the beauty and peace of Mountain Quest as a backdrop for her practice, Paulhiac is excited to start offering treatment to new patients and to continue serving patients she's had for years.
"I always say – 'true healing and wellness is within each soul,'" she said. "'The challenge seems to be keeping illness at bay. While the mind wanders and the body takes the good and the bad, the spirit knows it must move on. The grateful healer knows without a doubt that pure intent will set the healing ground.' That's kind of my motto."