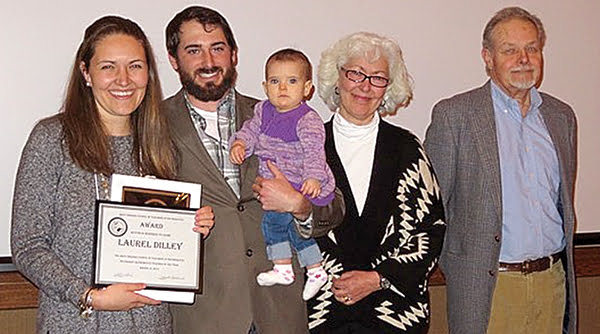 Suzanne Stewart
Staff Writer
When Pocahontas County math coach Joanna Burt-Kinderman asked Pocahontas County High School math teacher Laurel Dilley to co-present at the annual West Virginia Council of Teachers of Mathematics conference at Stonewall Jackson Resort last weekend, Dilley assumed it would be like other conferences she attended.
It was, except for one difference – she was named West Virginia High School Math Teacher of the Year.
While Dilley did help Burt-Kinderman with a presentation, the real goal was to get her to the conference for the award.
"At the last minute, Joanna told me there weren't enough presenters and asked me if I would go to co-present with her," Dilley said. "She said they were just going to waive the registration fee because they didn't have enough presenters, so I didn't think anything of it."
Because math teachers from Pocahontas County have all presented at the conference in the past, Dilley assumed it was going to be a normal weekend. That is, until the awards ceremony.
Like many award presentations, the announcer tried to keep Dilley's identity secret until the very end as he was describing her success as a math teacher and the many ways she has excelled in the classroom.
"They said at some point, 'this person is from Pocahontas County,' and I'm like 'oh my gosh,' and I just looked over at Joanna, and she had a sneaky look on her face," Dilley recalled.
Burt-Kinderman wasn't the only one in on the secret. Dilley was surprised by her husband, Justin, daughter, Marcie, and parents, Bill and Lynn Beatty, who attended the ceremony, as well.
"I had actually texted Justin a little bit earlier," Dilley said. "I was like, 'hey, how's Marcie doing today? Is everything okay?' It was like 5:30 p.m. – clearly they were almost already there – and he responded, 'super busy day, I'm just going out to feed [the cows]. I'll talk to you later.' So everyone was completely playing it off."
After the shock wore off, Dilley said she was proud to be honored by the WVCTM, but at the same time, wishes the award was given to the entire math department at PCHS – Chris Sutton, Leah Shinaberry, Jennifer Nail and Dilley.
"I was thinking about it yesterday, and I was like, 'wow,'" she said. "I'm incredibly honored and humbled, obviously. I don't think all the credit needs to go to me. A lot of it is – I've been blown away with the mentorship and the coaching from Joanna and the teamwork with Chris and Leah and Jen, and the whole department at the high school.
"I've been in good circumstances," she continued. "All the success we've had in the math department is not solely on one person. It's such a group effort, and besides the success in the math department – the success as teachers. I feel like we've just taken on a completely different model for teaching and viewpoint on teaching, and that's thanks to Joanna's work and all of us working together."
Pocahontas County math teachers are known statewide for their innovative approach to math and the success derived from their efforts. So much so, that teachers from other counties look forward to presentations at the conference, as well as future visits to PCHS to see the teachers in action.
Dilley and her colleagues have worked with teachers from other counties and have opened up their classrooms for observation.
"I've talked to the Pendleton teachers, and they've been over to observe," Dilley said. "Several other counties have talked to Joanna and asked, 'can we just come watch what's going on?' and that's really cool. It's awesome to be number one in the state – or number two or three, whatever it is, but it's also awesome that all the math teachers in the state are still on the same page. We're all still trying to bring West Virginia to the top and not necessarily compete against the counties, but help each other."
Dilley said she remembered a time when that wasn't always the case, even when the teachers were working in the same school. When she first started teaching, Dilley was at Morgantown High School, where she didn't feel collaboration was as key as it is now.
"I feel like there was this climate that everyone wants to be the best teacher for themselves," she said. "I would have never gone to somebody at Morgantown High, another math teacher and asked them how to do something or admit I didn't know how to do a problem or something.
"Now – all the time, Leah and Jen and Chris and I are running to each other's rooms," she continued. "That's such a different culture than I feel normally happens in schools. That part is really cool, and I think that has a lot to do with our success. I know it has a lot to do with my growth as a teacher."