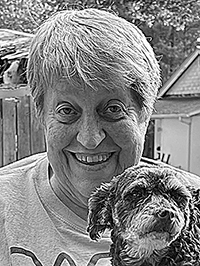 Diana Sue Shearer, 66, of Buckeye, passed away Sunday, August 20, 2023, at the home of her sister.
Born December 25, 1956, in Marlinton, she was a daughter of the late James William "Buck" Sr. and Mildred Jane Harsh Shearer.
Diana was a 1977 graduate of Pocahontas County High School. She attended the Cummings Creek Victory Chapel on Beaver Creek.
In addition to her parents, she was preceded in death by a sister, Lois Jean Alderman; and three brothers, Tommy Wayne Harsh, James Wilmer Shearer Jr. and Ricky Allen Shearer.
Those left to cherish her memories are her sisters, Margaret Ann Burr, and husband, Henry, of Marlinton, Mildred Ann Myers, of St Augustine, Florida, Vickie Lynn Harbor, of Hurricane, Debra Kay Keatley, and husband, Roy, and Teresa Renee Rhea, all of Marlinton, and Patricia Darlene Wilfong, and husband, Gene, of Buckeye; brothers, Robert Lee Shearer, of Marlinton, Kenneth Eugene Shearer, and wife, Donna, and Royal C. Shearer, all of Buckeye; several nieces and nephews, great-nieces-and-nephews, great-great-nieces-and-nephews; and her two fur babies, Molly and Myrtle.
Funeral service will be held 1 p.m. Saturday, August 26, 2023, at Lantz Funeral Home in Buckeye with Rev. Norman Alderman officiating. Burial will follow in Mountain View Cemetery in Marlinton.
The family will receive friends from 11 a.m. until time of service.
Online condolences may be shared at Lantzfuneralhome.com