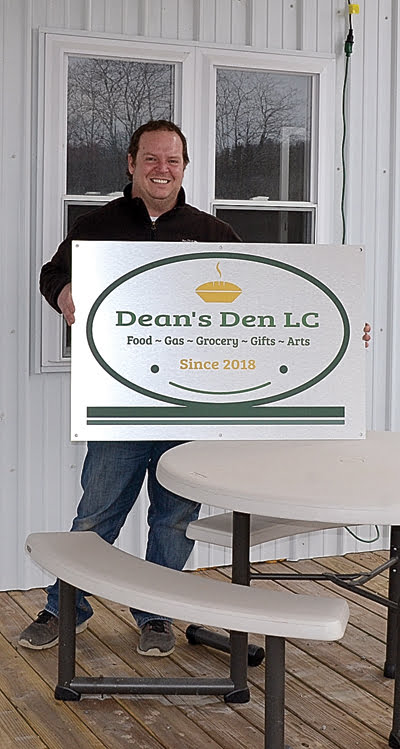 Suzanne Stewart
Staff Writer
There's been a small store at the Frost intersection ever since Bessie Grey opened her doors around 1946. It's had several owners, has gone in and out of business, and has been through many renovations over the years.
Later this month, chef Andrew Dean will open the doors once more, to welcome the world to Dean's Den.
Dean's Den is a small restaurant and convenience store where Dean hopes to serve members of the community, tourists and the traveling public.
"When it was here it was so convenient," Dean said. "It was so nice. I can't tell you how often I shopped here when Patty [Bussard] was running the place. We missed it. We missed it a lot."
Dean is best known for his skills as chef at Mountain Quest, but most recently, he had a food truck which he operated in and around Harrisonburg, Virginia. While he had some success with the truck – including winning second place at the Virginia Food Truck Festival – Dean said the food truck wasn't his passion, so he and his wife, Isabella, returned to Frost and decided to open the store.
"I was looking to do something a little bit different than Mountain Quest, and this was it," Dean said. "It's very convenient, and it feels nice to reopen the store. Bessie Grey – I've heard a lot of stories. A lot of locals have stopped by and told me stories about her. There's been a store here, to the best of my knowledge, since 1946."
Dean's restaurant will feature all homemade, fresh appetizers and entrées, including vegan and gluten-free options.
"Everything is homemade," Dean said. "We're going to do my style of Greek gyro. It will be with naan bread and all fresh ingredients. I'm going to do ribeye steak and cheese sandwiches. We're also going to do grass fed [beef] burgers, and, of course, we have to have grilled cheese, hot dogs and veggie dogs. We're also going to do a vegetable sandwich which will be like bean sprouts, humus, lettuce, tomato and garlic aoli. It's a big menu."
The menu will also include homemade pastrami for sandwiches.
"I brine it for ten days," Dean explained. "After that I smoke it for about six hours and then I'll steam it for another two hours. It's unbelievable. It's the greatest ever."
Technically, there are two menus – the appetizer and entrée menu and then a separate one just for pizzas. Dean plans to have 10 basic and not-so-basic pizzas, plus a large list of toppings that can be added for custom orders.
As if that's not enough, Dean said he also plans to have breakfast sandwiches, like steak and egg, and bacon, egg and cheese, available in the mornings.
The store has seating for about 10 guests and several tables on the front porch for al fresco dining.
For the grand opening on Thursday, March 21, Dean will be serving up free pork barbecue sliders, as well as some other menu items.
"It's going to be an open house day, so I probably won't cook the whole menu that day just because I want to be available to talk to everyone," he said.
In addition to being conscious of dietary restrictions, Dean wants to be environmentally conscious when it comes to food containers and utensils.
"I'm going to avoid all silverware, utensils and plates," he said. "I'm going with all to-go containers and also sugar cane plates which is really interesting. It's compostable. It's really green. I'm going to try to go that route."
For the store side of things, Dean said his wants to sell items that can't be found in the area, including specialty items for those who have dietary restrictions.
"My goal for the groceries is to try to carry some items that are hard to find in Pocahontas County," he said.
"For instance, I'm going to carry the Irish Gold butter. It's a whole organic butter. I'm going to carry organic coffee, and a small selection of other organic things."
One corner of the store will be filled with Isabella's artwork which will add color to the store, but will also be be for sale as another part of the business.
In addition to the store and restaurant, Dean plans to install a gas pump on the opposite side of the road.
"I have no space on this property," he said. "It's really small. So I've worked with Mountain Quest, possibly, to put gas a little bit down the road from here. I have a gas pump already purchased. I haven't figured out the tanks, yet, because Knapps Creek is so close. I'm probably going to go with above ground tanks. It will be an automated system, so it will be open 24 hours a day."
Dean's Den will be open Sundays from 8 a.m. to 6 p.m., Mondays and Wednesdays through Saturdays, 6 a.m. to 8 p.m. and closed on Tuesdays.