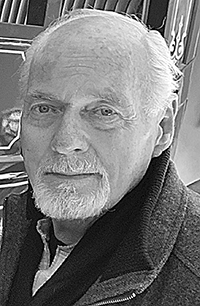 David James Zorn, born December 1942, in Buffalo, New York, lost his battle with COPD and CHF Saturday, May 20, 2023.
Dave was in the U.S. Marine Corps from February 1962 to December 1964, and served in Vietnam.  It was during that time he started cooking aboard ship.  After returning to Buffalo, New York, he attended culinary school and spent several years in the food service industry, including owning his own bakery in Hamburg, New York.
 
Dave moved to Oklahoma in 1985 where he met Paula.  They attended massage therapy school together and, after moving to St. Louis, Missouri, attended University of Missouri, St. Louis, where they both received degrees in exercise physiology.  While attending school, they took the same classes so they could save money on books.  Dave didn't stop there, he wanted his own business where people could have fun in a resort-type setting.  Dave and Paula searched several areas of the U.S. before settling in Marlinton.
Someone in St. Louis told Dave he should look into the state of West Virginia.  Traveling from Buffalo, New York, south on Rt. 219 going back to St. Louis, was when Dave discovered Marlinton.  He fell in love with the little town.  After returning to St. Louis, Dave was on the computer every day looking for property.  Once he saw Peggy Smith's house, he and Paula headed to Marlinton to see it.  As soon as they pulled in the driveway they knew that was it.  Dave and Paula moved to Marlinton in August 2000 after purchasing the Smith homestead. They both worked full-time jobs while gutting and remodeling the house, turning it into a B&B.  Dave had high ambitions for Marlinton and all its potential so he kept building by adding a cabin and then a restaurant.  He always said you don't need a vacation if you are doing what you love and that's what he did.
If you knew Dave, you know he never said "bye." He always said "be good to yourself."
So, be good to yourselves.
He was preceded in death by his parents; and a brother, Danny.  
He is survived by his wife of 37 years, Paula; two children, Daniel Zorn, and wife, MariLou, and Jennifer Cox, and husband, Brian; step-son, Bryan Pain, and wife, Shonda; step-daughter, Anna Moore, and husband, Will; 10 grandchildren, Brendan, Evan, Nathan, Sean, Raylee, Morgan, Isaac, Andrew, Christopher and Randy; sisters, Alberta and Elizabeth; and brother, Frank.  
There was no memorial service.
Dave donated his body to medical research.