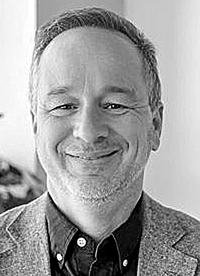 Darren Jackson, a strong Christian husband, father, son, entrepreneur and community leader went to be with God in Heaven Monday, April 10, 2023.
Born August 19, 1965, in Ritchie County, he was a son of the late Norville "Bud" Jackson and Charlotte Jackson. They raised Darren to be a God-fearing, people-loving person who served others quietly and often.
As a 1987 Glenville State College graduate in Business, he celebrated more than 30 years as a State Farm Agent, loving and serving communities in and around Marlinton. He was a member of the West Virginia Political Action Committee for State Farm Agents as well as the Marlinton Rotary Club for 16 years. Among his many interests, he particularly enjoyed working on cars, NASCAR racing, and being involved with Christian music festivals with family and friends. But his favorite way to spend his time was with his wife, children and grandchildren, all of whom he took to their "Disney House" in Florida as often as he could.
Darren and his wife, Sherri Hardman Jackson, celebrated 33 beautiful years of marriage. Darren and Sherri have three children: Ryan, who went to Heaven alongside his father, leaving behind his wife, Kimberley Jackson, and son, Elias; Morgan, and her husband, Josiah Pitts, and two daughters, Abbie and Anna; and Aaron, a graduating senior at WVU.
In addition to his wife and children, his memory will be cherished by his mother-in-law, Helen Hardman; his nieces and nephews, including Alex Kraus and Emily Kraus; his State Farm Agency staff members, including his close friend and coworker, Kenny Woods; and the countless family, friends and policyholders who were so wonderfully served by his quiet thoughtfulness.
He will be reunited with his parents, Bud and Charlotte Jackson, as well as his father-in-law, Terry Hardman, brother-in-law Lee Kraus, and sister-in-law Shelly Kraus.
On Monday, April 10, 2023, Darren and Ryan were involved in a horrific car accident.
Because Darren and Ryan were loved by so many in both southern and central West Virginia, a service to honor them was held in each location.
A service was held at the Pocahontas County Opera House in Marlinton Saturday, April 15, 2023; and at Horizons Church in Mount Clare on Sunday, April 16, 2023.
In lieu of flowers, donations may be made to the Darren Jackson Scholarship Fund through First Citizens Bank.