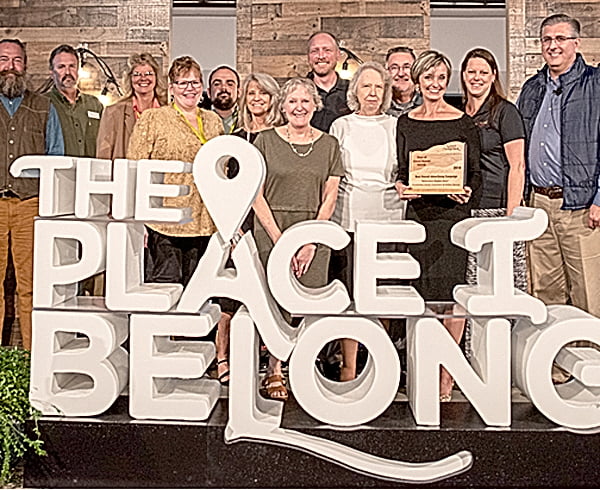 Suzanne Stewart
Staff Writer
The Pocahontas County Convention and Visitors Bureau and Green Bank Observatory were recognized at last week's West Virginia Tourism Conference for their efforts in promoting tourism and points of interest in Pocahontas County.
"The Stars of the Industry have two different elements – there's an advertising element and also a tourism professionals awards," CVB executive director Cara Rose said.
The CVB submitted its advertising campaign "Adventure Begins Here," which included print and digital ads that attract visitors to Pocahontas County.
"We submitted for the Best Overall Advertising Campaign, and we won. We don't know how many people we competed against – they don't tell us that. According to Chelsea Ruby, the Commissioner of Tourism, there were a lot of submissions this year.
"We were certainly happy to receive that award and be recognized for the really good work that the CVB is doing to brand and market Pocahontas County, but more importantly, that we did the best of anybody in the state of West Virginia who submitted."
The ad campaign was a success due to the efforts of the CVB, as well as its partnership with ad agency Presidio Studies, owned by Timothy Luce. With Luce's help, the concept of "Adventure Begins Here" reached the masses and brought them to the county.
Rose said she also submitted the Green Bank Observatory for the Overall Earned Media Award, which they won.
"It means articles and stories, [not advertising]," Rose said, explaining earned media. "I knew when I submitted that, that there was no way that anybody could beat them. Honestly, I knew that, because the list of publications that they had articles in, the social media, the Internet, everything. They had a broad scope of public relations that you can't pay for. They did an exceptional job at the Observatory, so I was really thrilled when it was announced that they had won."
It was an added bonus that the conference was held at Snowshoe Mountain Resort this year.
"It was great to win on our own turf, as well," Rose said.
During the conference, more than 220 tourism industry partners from all across the state enjoyed some of what Pocahontas County has to offer.
"We were just really pleased to host all of our tourism colleagues here at Snowshoe this year, and the weather couldn't have been more beautiful," Rose said. "It was really spectacular, and it gave everybody an opportunity to see the fall colors.
"We were able to offer them some on-mountain activities from our partners around the county," she continued. "Roy [Moose] from the Cranberry Mountain Nature Center brought the snake show. Cindy Sandeno – the forest ranger here in Marlinton – is also an artisan. She makes jewelry, so she did a jewelry class for attendees. Amanda White from the Observatory brought the Star Lab up and did a planetarium presentation and Eric Marks from Yew Mountain Center did a wild plant hike.
"I really appreciate the partners being willing to bring their expertise to the mountain," she added.