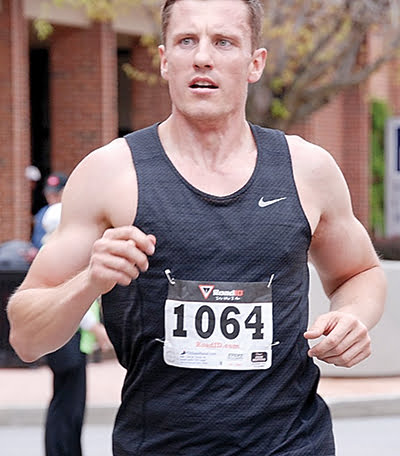 Suzanne Stewart
Staff Writer
Dunmore native Kellyn Cassell, who now lives in North Carolina, is thrilled about the newest race in Pocahontas County – a race he has organized with the help of friends and family.
"It's going to be the greatest thing to come to Pocahontas County since – I don't know – cars," he joked. "I'm so excited about it. Everything's coming together."
The race – known as the Greenbrier River Trail Marathon – will take place October 7 and will begin at Cass, and end at Stillwell Park in Marlinton. Cassell said he can't take complete credit for the 26-mile race, but he is proud to see it come to fruition.
"I can't take credit as the first person to ever think of it," he said. "As a runner, I'm super excited about it because I think it will be one of the fastest marathons that you can possibly do just because it's point-to-point and flat. From the aspect of bringing something back to Pocahontas County, I think it will be another event that we could get some community support behind."
Cassell has been busy organizing the new event and has made some additions to create a one-of-a-kind marathon. With the race beginning in Cass, he hopes the Cass Scenic Railroad State Park will provide the "starter gun" in the form of a train whistle.
He also has plans for vendors and volunteers.
"I've been talking to Alison Flegel and she's going to make pottery for the winners for a unique award," Cassell said. "She talked about doing a yoga class before and after to help the runners out, as well."
Another part of the marathon – the water stations – will have a twist which will add a little healthy competition for the volunteers.
"The idea right now is to have some of the local organizations, charities or say, the football team, run the water stations," Cassell said. "Then we could have a competition among the water stations and give something to whoever is voted as the best water stop.
"If 4-H has a water stop, they can be as creative as they want to and try to get the runners excited when they come through there," he continued. "We can give them money, or recognition – something – just to have a little bit more participation from the community."
At the end of the marathon, at Stillwell Park, Cassell plans to have a celebration with music, food and local vendors.
"I'd like to make it kind of an event at the finish line," he said.
With planning a marathon, comes a need for safety for all those involved. Cassell said he plans to have several people riding bicycles along with the runners to ensure everyone arrives at the finish line safe and sound.
"I'd love to have up to twenty bicyclists that ride along with the runners," he said. "Of course, the runners are going to end up being pretty spread out, but if we could have a couple lead bikes and some riding through with larger packs of runners – just for communication to the volunteers at road crossings to let people know the runners are coming – that would be great."
The local ham radio club will also be on hand to provide open communication from the starting line to finish line and everywhere in between.
While the marathon is the first Cassell has organized, it's far from the first in which he participated.
Cassell discovered his love of running in high school.
"I like telling that story because it includes someone near and dear to all of our hearts," he said. "I never thought about running. I always played sports; I always liked sports. I think it was my sophomore year – we were playing volleyball up at Green Bank and somebody hit a volleyball and I took off running after it. Mr. [Julian] Rittenhouse goes, 'man he runs like a deer. He's so graceful. You should run track,' or something like that, and I never considered running track until that very motivational individual – we all love Mr. Rittenhouse – said something about it."
In his junior year, Cassell joined the Pocahontas County High School track team and loved the two years he ran as a Warrior. He put track aside in college, but soon after, he returned to running and discovered his love of marathons.
"Then about the time [my wife and I started our family], I was like, 'I'm getting way too out of shape, I've got to start doing something,'" he said. "That year, I ran my first half marathon and then ran the Pittsburgh Marathon – my first one – and I really got into marathons at that point. I've been doing it ever since. I just ran one two weeks ago. I love it."
Cassell returns to Pocahontas County when he can to participate in the Great Greenbrier River Race, RoadKill Cook-off Possum Trot and the Turkey Trot at Green Bank Observatory. It was during one of those races he realized there was a great opportunity for a marathon on the Greenbrier River Trail.
"I was thinking, 'I love running here,'" he said. "We have got to bring some people in and run here. At the time I was thinking I just wanted to get some of my friends who run long distances to come in, and we could all race just to see how great this trail is and just so I can show it off, because I love showing off Pocahontas County."
After discussing the idea with his mom, Brenda Cochran, race director for the Great Greenbrier River Race, they decided the marathon needed to be organized.
Cassell said he hopes people will come out for the race and enjoy the day, each other's company and the beauty of Pocahontas County.
"There are people that run these things who are not particularly fast and they know they're not going to win, which is great," he said. "I'm never going to win anything either, but I just like to run. These people will do a run/walk and they're out there – I don't know how they do it – they're out there for six, seven hours, doing a marathon. It's crazy.
"You never know who's going to be interested in doing a marathon."
Cassell will have information available at the Great Greenbrier River Race in Marlinton Saturday, April 28.
For more information on the marathon or to register to participate, visit www.grtmarathon.com or on Facebook at Greenbrier River Trail Marathon.