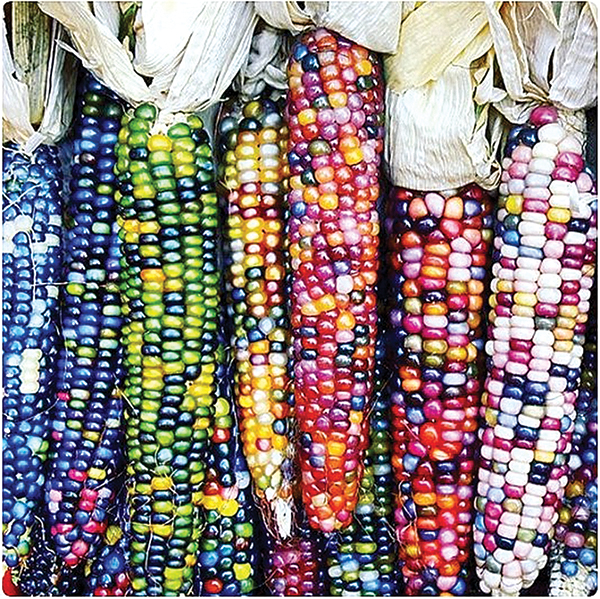 Melondy Phillips
Staff Writer
Corn is a staple in the diets of many cultures, as well as for animal feed. According to an article published by the FDA in September 2020, 92 percent of commercially planted maize in the United States was genetically modified. Although there are thousands of strains of corn today, due to mega cultivators being the main source of store-bought corn, many people only see a limited variety. This was not the case during colonial times.
Modern-day corn is thought to have been derived from teosinte, a tall stout wild grass, native to Mexico. Through selective breeding, indigenous people cultivated many different types of corn with many different traits, including a variety of colors, size, maturity speed and uses. 
When Christopher Columbus visited the New World, the Taino people shared their primary food source with him. They called it Mahiz, meaning "source of life," which eventually became known as maize.
Maize generally comes in a lovely array of yellows, blues, reds and greens and has smaller kernels then today's common sweet corn. Maize was an important food source for the Native Americans and was incorporated into almost every meal. Not only was maize important for the Native Americans, but the early colonists would soon discover how important it was for them, as well.
When the colonists settled in the new world, they had little knowledge of the local food sources and, as a result, many starved. The Native Americans, starting with a man named Squanto, taught the colonists a lot about this amazing food source; how to grow it, store it and use it. This single food item – maize – made a huge impact on saving many lives.
Edward Winslow, who traveled on the Mayflower in 1620 and who also co-wrote the booklet Mourt's Relation, which tells about the first Thanksgiving, referred to corn quite often throughout the document. In chapter five, Winslow stated, "… they set little or no corn, which is the staff of life, and without which they cannot long preserve health and strength." This comment shows the importance of corn for the health and life of the colonists.
Although the terms are used interchangeably, corn is a more generic term which could have a different meaning based on location and context; whereas maize is an accepted scientific term that refers only to one particular type of grain.
In a time before canning and freezing, maize could be easily dried for long term storage. After pulverizing the dried kernels into cornmeal, it could then be used to make corn syrup, cornbread, corn pudding, as a thickener, mixed with beans to make succotash, and many other possibilities. Sukquttahhash or succotash, meant "corn seethed like beans." 
Dent corn is one of the five main varieties of maize. When left on the stalk until dried, it develops a dent on the tips of its kernels and is a source for cornmeal, livestock feed (around 93 percent of dent corn currently grown in U.S.), hominy, pone, suppawn and samp.
The other main types of maize are flint (grown extensively through colonial times but hardly produced in the US today), flour (the oldest type of corn, easy to grind, limited U.S. production), sweet (most commonly used type in the U.S.), and popcorn (small-kernelled flint type, a minor crop in the U.S. compared to dent). http://corn.agronomy.wisc.edu/
Whole dried maize kernels would be soaked in lye water (hardwood ashes and water) to soften and split the kernels for making hominy.
Samp is made by boiling coarsely ground dried corn until soft and then adding milk and butter. This could be eaten either hot or cold – creamed corn.
Suppawn, similar to samp, is a thick porridge made by adding milk to corn meal; basically, cornmeal mush.
Pone is a bread made from cornmeal that has been fried or baked.
Sweetened cornmeal mixed with water, and boiled slowly in a bag, made a colonial substitute for hasty pudding; a European treat made with oatmeal and milk or wheat flour.
Like pemmican, No-cake (or Nokick) was a journey food. Indian corn parched in hot ashes and ground into a fine powder could be stored and carried long term in a leather bag. When traveling, three spoonfuls of this powder, mixed with either snow or water, could be eaten without the need to cook it. The legend says that it was so nutritious that anyone on a diet of this maize could carry loads "fitter for elephants than men." revolutionarywarjournal.com 
In addition to the multitude of uses for dry corn, Native Americans, like most Americans today, loved "green corn." Green corn is the stage of the corn when the kernels are soft and sweet and most commonly eaten on the cob, or as cut corn. This green corn was enjoyed boiled or roasted just like it is today. 
Corn became such an integral part of the colonial frontier that, besides for food, it was also used as game pieces and to count votes in ballot boxes. 
Items like door mats, horse collars, rope, sleeping mats, dolls, some shoes and even beds and chairs would be made out of the corn husks. Dried cobs were made into darts, burned as fuel or for smoking meats. 
Although it has been said that ornamental corn is not edible, Indian corn is 100 percent edible and has a delicious diversity of colors and flavors which are not available in today's sweet corn production. 
With the thought of more than 90 percent of our modern-day corn being genetically modified, each gen- eration should labor to save the amazing heirloom seeds before they all disappear.