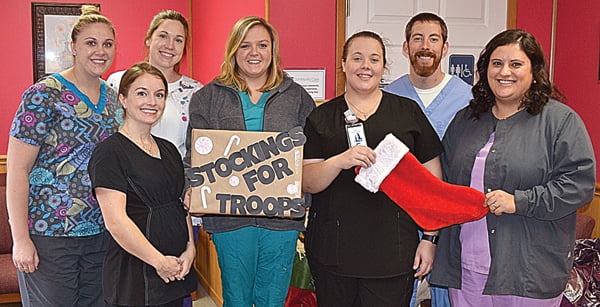 Suzanne Stewart
Staff Writer
After the success of the Treats for Troops drive, Community Care of West Virginia Dental office in Green Bank is switching gears for the Christmas season with the Stockings for Troops drive.
Organized by Soldiers' Angels – a non-profit national organization – Stockings for Troops is one of many collection drives to support active service members, their families and wounded warriors.
Taking the helm of the collection at the dental office is Marka Kane, who said she wanted the community to get involved in helping others and thought the Soldiers' Angels program was a good start.
"I saw people doing this on Facebook – other offices – so I thought it would be a good idea to bring it to this community," she said. "They have a list of drop-off sites online, but they don't have any near here. I thought it would be good to try out."
The dental office staff has offered to help community members fill the stockings or they can drop off the stockings ready to go.
"They can bring it all in and we can make the stocking, or they can bring in stockings filled with things themselves," Kane said.
"They just ask for a card to be placed on it. Then, we mail it out. It's for wounded heroes, deployed service members and their families."
This is the office's first year participating in the Christmas collection and staff was inspired to continue collecting for the organization after the success they had with Treats for Troops, where they collected 70 pounds of Halloween candy for Soldiers' Angels.
"That was exciting," Kane said.
The deadline for the stockings is November 30 which will give the office plenty of time to collect and ship the items to the main headquarters. The stockings may be dropped off at the Green Bank office, Monday through Thursday, 7 a.m. to 5 p.m.
Below is a list of suggested items for the stockings:
• Slim Jims or beef jerky
• packages of holiday nuts
• single serving drink mix packets
• playing cards
• puzzle books
• holiday candy (wrapped, unopened)
• candy canes
• peanut brittle
• socks
• travel sized games
• card games
• stress balls
• gloves
• single serving cookie packages
• apple cider packets
• hot chocolate packets
• small notepads
• holiday themed lip balm
• baseball cap or beanie
Please do not include: safety pins, staples, glass, sharp objects, aerosols or products containing alcohol.
For more information on the drive, call the dental office at 304-456-5433 and for more information on Soldiers' Angels, visit www.soldiersangels.org