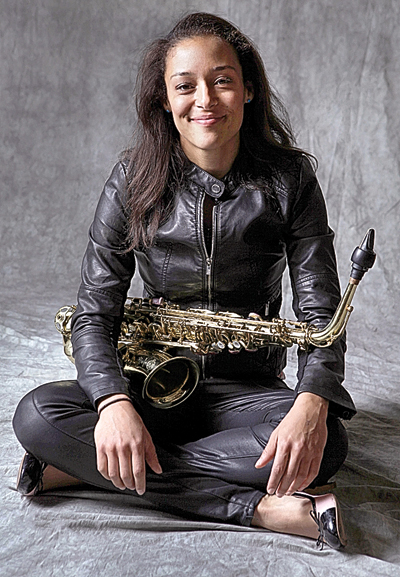 The Pocahontas County Opera House will welcome award-winning blues artist Vanessa Collier and her five-piece band to the outdoor Discovery Junction Stage Saturday, July 31, at 7 p.m.
"It felt so good to have the Opera House community back in full swing this past weekend, and we're ready to do it again this Saturday with Vanessa Collier," said Brynn Kusic, Director of Operations at the Opera House. "It's fun to have three such different performances to get things started. We had a great crowd for The Suitcase Junket and Shakespeare and expect another great turn out for Vanessa. Everyone is just so happy to be able to enjoy great live music and theater with their friends and family."
Vanessa Collier is a captivating and multi-talented blues vocalist, saxophonist and songwriter, hailing from the world-renowned Berklee College of Music where she earned dual degrees in Performance and Music Production and Engineering. Prior to releasing her debut album in August 2014, Vanessa spent a year and a half touring in the U.S. and internationally with Grammy Award-winning Blues Hall of Fame Artist Joe Louis Walker. Vanessa has also played alongside Annie Lennox, Kathy Mattea, Willie Nelson, and other notable artists.
"One of our board members saw Vanessa Collier perform in Charleston at Live on the Levee and was so blown away by her performance that she knew she had to play at the Opera House," Kusic said.
Most recently, Vanessa was honored on Dan Aykroyd's House of Blues Radio Show (Elwood's BluesMobile) as a Best of 2014 Blues Breaker Featured Artist. She was also selected as one of the top three finalists in the John Lennon Songwriting Competition and, earned a coveted spot to compete in the International Blues Challenge in Memphis, Tennessee, by winning the Billtown Blues Challenge. On her debut album, Heart, Soul and Saxophone, Vanessa demonstrates her skills as a master musician and songwriter, blending her blues background with elements of funk, rock and soul. Vanessa's powerful vocals, gritty saxophone solos, and incredible high-energy performance create a powerful show not to be missed.
The audience is encouraged to bring their own chairs. In the event of rain, the shows will be moved to the indoor stage at the Opera House. For inside shows, the Opera House will follow state COVID 19 guidelines and unvaccinated persons will be expected to wear masks. "You can bring your lawn chairs, but more importantly, bring your dancing shoes," Kusic said. "I've got a feeling she'll have us all up and moving by the end of the evening."
The show is free, but donations are welcome.