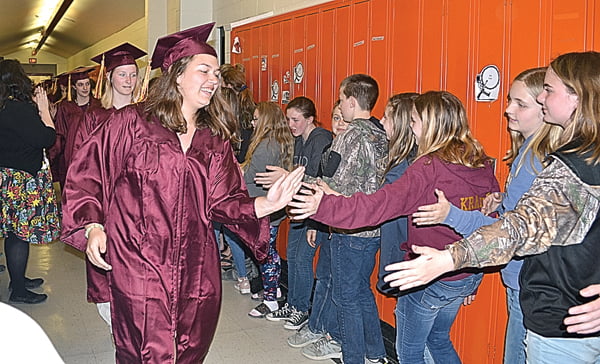 Suzanne Stewart
Staff Writer
Pocahontas County High School Class of 2019 put on their caps and gowns, and visited the elementary and middle schools last week to encourage younger students to stay in school and work hard to ensure they receive their diplomas.
The graduates entered the Marlinton Middle School gymnasium to a round of applause from the sixth through eighth grade students.
PCHS Option Pathway teacher Emily McLaughlin – who organized the day's events – addressed the students with words of encouragement before introducing the graduates.
"While we were at the elementary schools, we were talking about how you spend thirteen years of your life going to school every morning, every day," McLaughlin said. "It gets grueling. We know you don't like it, but it's important, and it's valuable.
"These guys right here, they've walked in your shoes," she continued. "They've fought the struggles. They've overcome them. They are going to continue to face struggles, but most importantly, they're being successful, and they're going to go on to higher education, and they're going to go on to careers. They're going to go on to living a life that is successful."
McLaughlin added that as the students transition to high school, there will no longer be a divide between Green Bank and Marlinton. Instead, they will all be one big class, and they will help each other reach their goals.
"You're no longer Green Bank; you're no longer Marlinton; until the county tournament, right?" she joked. "But, ultimately, you become a team, and these guys work together every single day."
McLaughlin introduced class president Jarod Liptrap, who spoke to the students about staying positive and keeping their eyes on the prize – a diploma.
"I would just like to stress how important it is for each of you to receive your high school diploma," Liptrap said. "Especially in today's world. That is the foundation of your career and your success in life. I know sometimes it feels like you're not going to get through it – there are struggles – but you have to take a look at the big picture and keep that in mind because in the end, it's all worth it."
Each member of the class stood, introduced themselves and shared their plans for the future.
Several are going to four year universities or colleges, many are going to community and technical schools, while others are entering the workforce and a few are joining the military.
One senior said he planned to attend Hogwarts to study the dark arts, but, of course, that was a joke.
Once the class shared their goals, McLaughlin reminded the middle school students that the future holds a variety of options – college, workforce, military.
"All of those things are important – all of them," she said. "That's what makes the world go round."