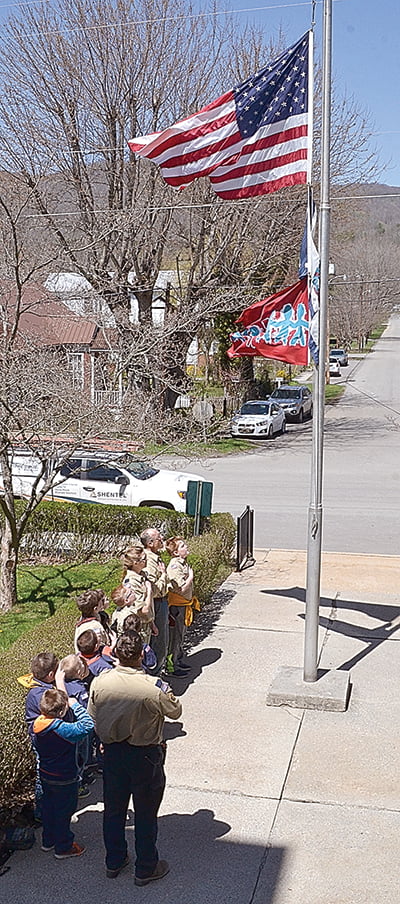 Suzanne Stewart
Staff Writer
In observation of Children's Memorial Flag Day last Friday, members of the community gathered at the Pocahontas County Courthouse to honor those who work with abused or neglected children, and to spread awareness about child abuse.
Circuit Judge Jennifer Dent spoke to the crowd about making sure children have the best experiences possible while growing up to ensure they are well-rounded adults.
"Childhood experiences develop who we become, and that's why it's so important that we concentrate and become aware of child abuse because childhood experiences affect who those children will become," she said. "It is not only in the present, but it is in the future that the problem remains and exists."
Dent shared statistics from the Department of Health and Human Resources, which states that there are more than 6,500 children in foster care in West Virginia and 83 percent of those children were placed in care due to substance abuse problems in their homes.
"The drug epidemic in our state is having a vast effect on our children of this state," she said. "We need to think about that because it's not just the abuse, but it's the children in the home of the abuse who are affected. Also, nationally, there's between 1,670 and 1,740 children that die from abuse and neglect on a yearly basis. When you calculate that out, that's five children per day.
"That inexcusable," she continued. "I want to say that each of us needs to think about what our childhood experiences have been and not only what they have been, but how they have developed us and what we can do to become more aware of abuse and neglect. Not only more aware, but what can we do to remedy this epidemic that's in our state and in our nation."
Dent concluded by encouraging those in attendance to watch as pinwheels were placed on the courthouse lawn during the ceremony and to think of those pinwheels as the children of Pocahontas County who are abused and neglected.
"That gives you a picture in your mind of the number of children that we're talking about – who are truly affected by child abuse," she said.
Members of Cub Scout Pack #33 performed a flag raising in which the U.S. and West Virginia flags were accompanied by the Child Abuse Awareness flag which will fly for the remainder of April.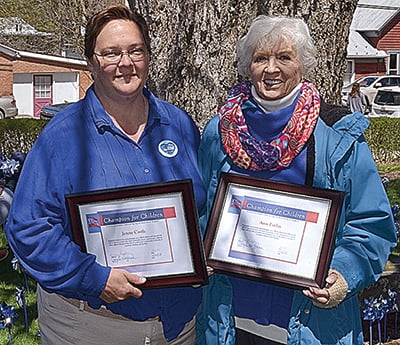 As part of the ceremony, two individuals were recognized as "Champions for Children."
Brad Dunz, of Marlinton, introduced the first recipient, his mother-in-law, Ann Finley.
"I'm here today to introduce one remarkable woman," Dunz said. "She is originally from Elkins, West Virginia, but spent a lot of her childhood in Warm Springs, Georgia, for polio treatment. If any of you have spent any time with her, you will remember her and you will want to spend time with her again. Her career of over twenty-five years went to helping children from abusive and neglectful situations in four states in the United States. She is a mother of five children, a grandmother and this fall, will be a great-grandmother. She is patient, creative, compassionate, classy, smart and is simply filled with love."
Dunz continued by saying Finley always approached life by trying to make each person she met feel happier and safe.
"However you may know her – Ann Kump Murphy, Mrs. Finley or simply Granny Annie, we are recognizing and admiring her today," he said.
Finley reflected on her service and how – to this day – she still feels a need to help children in need.
"I started in the West Virginia DHHR before there was any child protective services," she said. "I still – when I watch it on television – think 'oh goodness, I'd love to investigate that.'"
Speaking of the children she helped, she said many stay in touch to this day, and she is happy to see that she made a difference in their lives.
"A lot of them are better off," she said. "I still hear from the children. I still hear from foster parents and co-workers. Of course, things have changed, but we're all still battling. For a long time after I retired, I kept looking at children as if I was looking at an abused child. I've gotten a little past that, and it is so nice to see happy, healthy children."
Finley encouraged those in attendance to be aware of the children around them and if they suspect abuse or neglect, to call professionals who can help the children have a better life.
Kinetic Connections provider Missy Keatley presented the second award to CASA executive director Jenny Castle.
"Most of the kids that we work with refer to her as Jenny Casa," she said. "They love to see Jenny. Jenny has a special way with all children. It does not matter if it's a kid that we work with, kids in the middle of a store that Jenny just manages to come up with or whatever. Jenny is just one of those people that is very special. We don't know what we would do without her."
Accepting the award, Castle spoke about the importance of not letting child abuse and neglect becoming a normal, everyday occurrence that no longer shocks people.
"On the way down here, I heard on the radio that today is the twentieth anniversary of the Columbine shooting," she said. "I started thinking about how – when that happened twenty years ago – we were all devastated. Now, we hear there's been a shooting in a school and we say, 'eh, another school shooting.'
"We cannot become used to what's happening to our children," she continued. "We have to be able to stand up and say, 'that is not okay.' We have to be able to say, 'it's not okay that this child is abused,' 'it's not okay that this child has been shot,' 'it is not okay that this child is living in a home full of drugs.' We have to remember that they are most important. They are our future, and we must take of them now so they are able to help take care of us in the future."
After the ceremony, the cub scouts and those in attendance planted pinwheels on the courthouse lawn.