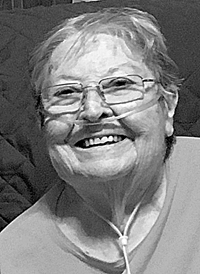 Charlotte Louise "Pug" Hall Poling, 83, of Beverly, passed from this life Thursday, December 24, 2020, at home with family by her side and under the care of West Virginia Caring.
Pug was born Friday, July 9, 1937, in Diana, a daughter of the late Charles Douglas Hall and Sarah Hulda Clevenger Hall.
On July 28, 1959, she married Russell "Russ" Burton Poling, who survives.
She was a graduate of Beverly High School and had been employed at the Green Bank Observatory. She loved to cook and bake. She also enjoyed crafting and tending to her flower gardens. She was Methodist by faith.
In addition to her parents, she was preceded in death by four sisters, Janice McCourt, Virginia Mace, Irene Cochran and Burnidean Riggleman; four brothers-in-law, Shirley Furby, George Riggleman, Dana Mace and Merchie McCourt; and a sister-in-law, Doris Hall.
In addition to her husband, those left to cherish her memory are her only child, Russanne Poling; one grandson, Ryan Brumfield; one brother, Charles "Sonny" Hall; and one sister, Arta "Tudy" Furby.
Pug's request for cremation was honored and a memorial service will be held at a later date.
The Randolph Funeral Home and Cremation Services has been entrusted with the arrangements.
Online condolences may be shared with the family at www.therandolphfuneralhome.com