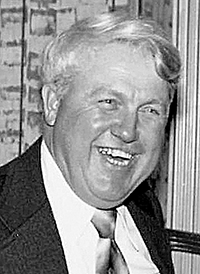 Charles "Dick" Harvey Sr., 89, of Asbury, passed away Saturday, November 11, 2023, at Carilion Roanoke Memorial Hospital in Roanoke, Virginia.
Born December 3, 1933, in Asbury, he was a son of the late Porter Elliott and Lois May Hayes Harvey.
Dick retired as a Superintendent for Anderson Paving with more than 35 years of service.  He was a member of Asbury Methodist Church and loved to play golf.  Dick also oversaw the Asbury Methodist Church Cemetery for many years.
In addition to his parents, he was preceded in death by his loving wife, Mary Jane Harvey; son, Charles D. "Rusty" Harvey Jr.; brothers, Beryl, Darrell and Larry Harvey; sister, Anna Ruth Harvey Ray; nephew, Charles Buck Smith and Donald Tink Smith; brother-in-law, Robert L. Smith; and niece, Brenda Sue Ray.
He is survived by a sister, Doris Harvey Smith, of Ronceverte; sister-in-law, Peggy Sampson (Randy); of Lewisburg; brother-in-law, Mickey Hanna, of Clintonville; nieces and nephews, Doug Smith, Tim Smith, Jimmy Ray, Karen Bryson, Susan Cherrie, Brian Sampson Sr., Jeremy "Jake" Sampson, Shelly Sampson, Jason Hanna and John Hanna; great-nieces-and-nephews he thought of as grandchildren, Adam Smith, Brian Sampson Jr., Savannah Moyer, Courtney Moyer, Eli Sampson, Summer Sampson, Alex Sampson, Abbi Hanna, James Harvey, Savannah Harvey, Jaidyn Smith, Mariah Strowbridge, Sarah and Hannah Smith, and Dallas and Declan Meriwether; and many friends.
Funeral service will be held at 1 p.m. Thursday, November 16, 2023, at Morgan Funeral Home Chapel with Pastor Ron Miller officiating.
Interment will be in Asbury Methodist Church Cemetery.
Online condolences may be shared at www.morganfh.net