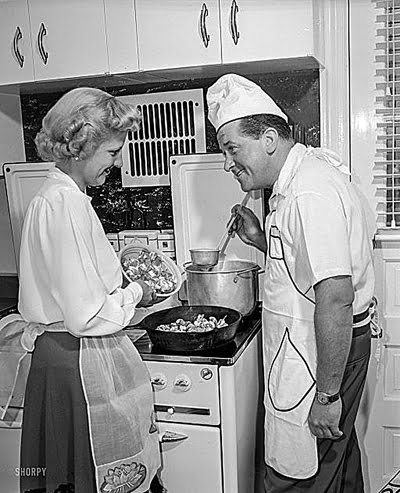 Laura Dean Bennett
Staff Writer
With all of the cookware available these days, isn't it interesting that cast iron cookware, which has been around for centuries, is back in style?
The fact that it's becoming popular again may come as a surprise to some people, but not to those of us who grew up with it and have never stopped using it ourselves.
I'd say it's just another case of grandmother knowing best.
History tells us that casting techniques for cast iron cookware were first developed in China around 220 A.D. when furnaces could create enough heat to melt iron.
By 1100 A.D. some iron cauldrons were being cast in England.
By the 16th century, cast iron was being used throughout Britain, Europe and all around the world.
Cast iron cookware is made by melting iron and steel together. The molten metal is poured into a mold usually made of sand, water and powdered clay.
When the cast iron pot or pan is cool, the sand mold is broken and the cookware is released and sanded to a finish.
In 1707, Abraham Darby patented the sand casting method, which is similar to the way cast iron is still made today.
During the 18th and 19th centuries, factory-made cast iron became easier to find and more affordable, so there was a boom in cast iron cooking.
The Wealth of Nations, published in 1776, was one of the world's first scholarly classics about what builds a nation's wealth.
In it, its author Adam Smith stated that cast iron cookware was so important to daily life that it was literally worth more than gold.
In the early years of America, cast iron was held in great esteem.
George Washington's mother's cast iron cookware was one of the special bequests in her will.
Louis and Clark felt that their cast iron Dutch oven was one of the most indispensable pieces of equipment that they took with them on their 1884 expedition.  
Cast iron cookware became less popular in the 20th century as other cookware materials, such as aluminum, grew in popularity.
But, as you may have noticed, fancy chefs and famous cooks have always kept at least a few pieces of cast iron in their kitchens. And now, it's enjoying a resurgence in popularity.
One reason for cast iron's comeback is probably because of health concerns associated with other types of cookware.
Cast iron poses none of the toxic fume risk that non-stick pans do.
It can be heated to extremely high temperatures without negative effects.
Cast iron cookware can be used for hundreds of years and passed down from generation to generation, something that can't be said about a modern, non-stick pan.
Cast iron pieces can be restored, even when they've been left outside for years and are completely rusted over.
And it's practically indestructible. Have no fear of scratching these pans – heck, you could probably drive over them with a tank to no ill effect.
Besides its durability, cast iron is also versatile.
You can sear, fry, bake, broil or simmer in a cast iron skillet or pot. As long as you keep it seasoned, it will be your best friend on the stove, in the oven or over the campfire.
Cast iron cookware has been around forever, and it isn't going anywhere anytime soon.
Dig out your grandmother's cast iron skillet and you'll be whipping up pan-seared steaks and skillet cornbread in no time.
Maybe you'd like to start by trying out the easiest iron skillet recipes I have.
Mildred's Iron Skillet Roasted Chicken
Mom would roast a chicken in her cast iron Dutch oven. She'd slather her bird in melted butter mixed with vegetable oil – about half and half. The chicken could be stuffed or unstuffed. She'd just salt and pepper it (I like to add some dried or fresh rosemary or any nice herbs that smell good and are handy) and place it in an already hot cast iron Dutch oven.
Cover with the lid and roast on low to medium heat for about 45 minutes.
Uncover and turn up the heat until the skin is crispy and brown on all sides. Lift out and place on a cutting board and dinner is served.
And for dessert, here's my mother's Aunt Ida's recipe for a quick, no fuss cake.
Aunt Ida's Quick
Iron Skillet Cake
It's great served with some fresh fruit and whipped cream, ice cream or, if you have it, a little bit of chocolate sauce. When I say quick, I mean this cake is ready in 45 minutes.
Prep time: 10 minutes
Cook time: 35 minutes
Servings: 8 to 10
Ingredients:
2 cups sugar
2 cups self-rising flour
1 1/4 cup milk
2 large eggs
1 teaspoon vanilla extract
1/4 cup vegetable oil
Instructions:
Preheat the oven to 350°.  Grease and flour a 12-inch cast iron skillet. Combine ingredients in a large bowl and mix well. Pour the batter into the prepared skillet. Bake for 30 to 35 minutes or until golden brown and set. Allow to cool in the pan for 15 to 20 minutes before turning the cake out.
How to care for cast iron cookware
Seasoning is the process that creates a non-stick layer on your cookware so you'll need to re-season it frequently.  
Season your cast iron often, when you first buy it, need to restore it and after each use.
Remember to always keep it dry. Any amount of water left in the pan can cause a rust spot.
After ordinary use, cast iron cookware can often just be wiped out with half a teaspoon or so of salt and a rag. Wipe out any food debris, wipe it thoroughly with the salt (use no water) then heat in a hot oven or on the stove top and wipe with a little oil.
But, if necessary, you can wash it with soap and water. But then you will have to re-season it.
Rinse and dry thoroughly, leave it sitting on a hot burner or put it in a hot oven to heat it through then coat it completely with oil and reheat it again to seal in the oil.
After every use, be sure be sure to wipe it down with a light coating of oil to protect the seasoning.
The more times you use your cookware, and the better you re-season it, the better the seasoning will work.