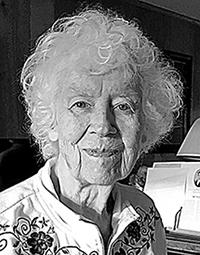 Mrs. Lucia Cary Gardner Phillips, age 89, of Covington, Virginia, died Monday, May 22, 2023, at her residence. She was the wife of Robert Carroll Phillips.
Born April 19, 1934, in Clover Lick, she was a daughter of the late William Cazenove Gardner and Catherine Cocke Gardner.
A 1952 graduate of Towson High School in Towson, Maryland, Cary also graduated from the Preparatory School of the Peabody Conservatory of Music in Baltimore and earned an associate degree in business from Dabney S. Lancaster Community College. A resident of the Covington community since 1956, she was employed by the Alleghany Soil Conservation Service for a number of years. Cary was a member of Emmanuel Episcopal Church where she served her church as a member and former president of the Episcopal Church Women, a former church organist, served on the vestry and a member of the Order of the Daughters of the King. Cary enjoyed being a volunteer for the local Meals On Wheels program. Having grown up on a farm, she was fond of animals, nature and music.
In addition to her parents, she was preceded in death by three brothers, Edmund Gardner, William C. Gardner and Harrison Gardner; and one sister, Harriet G. Meadows.
In addition to her husband, she is survived by two daughters, Catherine P. Rubin, and husband, Robert, of Fuquay-Varina, North Carolina, and Elisabeth P. Taylor, and husband, Jonathan, of Rochester Hills, Michigan; two grandchildren; four great-grandchildren; and a number of nieces and nephews.
A funeral service will be conducted at 10:30 a.m. Friday, May 26, 2023, at Emmanuel Episcopal Church with Rev. Katherine Doyle officiating. Interment will follow in Alleghany Memorial Park.
The family will receive friends on Thursday evening from 7 to 8:30 p.m. at Loving Funeral Home in Covington, Virginia.
The family suggests that, in lieu of flowers, memorial tributes take the form of contributions to Emmanuel Episcopal Church, 136 N. Maple Avenue, Covington, VA 24426
To view Mrs. Cary Phillips' memorial tribute page, please visit www.lovingfuneralhome1913.com