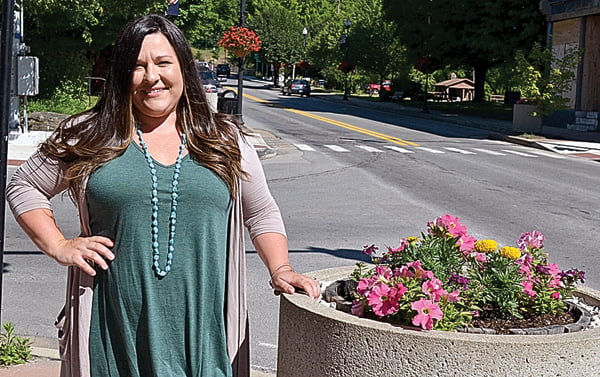 Suzanne Stewart
Staff Writer
 
We may be in the middle of a global pandemic, but there is still plenty of safe fun to be had through Pocahontas County Parks and Recreation and Pocahontas County Community Wellness Center programs.
New program coordinator Brooke Burns began with Parks and Rec right around the time of the COVID-19 pandemic quarantine, so she had to be creative when planning programs during social distancing.
"I had to lay out an idea of some programs where I thought we could socially distance, and I had to present it to the board," she said.  
For all of the programs, Burns said she will do screening questions and ensure that each participant has supplies they can keep or equipment that has been disinfected after every use.
"We provide hand sanitizer," she said. "We have gloves. We're taking the measures to make sure that everybody stays safe. As for the swimming lessons, an adult has to be in the water with the students, so Lauren Bennett's the teacher, and she will be instructing, while the parents will be doing the hands-on part of the lesson."
Burns, who has always loved working with children – especially in the outdoors – is optimistic that county kids will have plenty to keep themselves busy this summer.
"I really wanted to push getting these programs started because I have two kids and one of them is in school, so he's used to seeing his friends all the time," she said. "I was like, 'we need to get something we'll be able to do outside.' We can keep them separated, we can provide them with everything they need and just let them interact with each other.
"It's all about socialization for me," she continued. "I think it's really important, right now. We really pushed to get these programs going, so I hope we have a good turnout."
Burns and her family moved to Pocahontas County two years ago – her husband, Steven, was born and raised in the county. The stars aligned and when they moved home, the program coordinator job came open and she was able to get the job.
"I absolutely love it," she said. "Something I'm a big proponent of is kids getting outside, getting in nature. I think it's good for the whole family. Before all this [pandemic] started, I really wanted to do all these family events like relay races, and we couldn't do that, so next summer I'm hoping to have more in-depth programs. For now, we're working with what we have."
In addition to summer programs, Burns said the Wellness Center is partially open to the public. There is a limit of 10 people in the fitness room at a time, and they are asked to wipe down the equipment after use.
Before anyone is allowed near the equipment, Burns said she asks wellness questions about having a fever or cough, as a precaution. 
Burns said she is always open to suggestions for future programs and those who are interested in volunteering or have suggestions may email her or call her at the center, 304-799-7386.
A list of the summer programs may be found in the Community Calendar on page 4 of each week's edition of The Pocahontas Times.
Suzanne Stewart may be contacted at sastewart@pocahontastimes.com