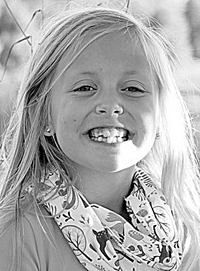 A beloved daughter, granddaughter, sister, niece, cousin and friend, Braelynn Raene Peteete, unexpectedly left this world, at the age of 8, Sunday, October 24, 2021.
Born in Elkins, September 29, 2013, she was a daughter of James Allen Jr. and Rebecca Lea Preusse Peteete.
Braelynn was a second grader at Green Bank Elementary/Middle School. She was a beautiful, fun, outgoing and vivacious little girl who was full of life. She loved reading, cheerleading and her friends. She adored her big brother, Bryant Randall Peteete. Her mom was her best friend and her dad was her hero. She will always be remembered for her infectious smile, piercing blue eyes and loving personality. Her presence in our lives will be sorely missed.
Braelynn was preceded in death by her uncles, Garry "Bubba" Preusse Jr. and Randall "Randy" Preusse; cousin, Mason Chandler, great-grandpa, Elward Schumann; great-grandparents, Wilhelmina and Alfred Preusse and Sybil and Allen Peteete; and great-grandpa, Bill Kucera.
She is survived by her parents and brother, of Green Bank; maternal grandparents, Garry Sr. and Laura Preusse, of Taylor, Texas; paternal grandparents, Steve and Laurie Bailey, of Bryan, Texas; aunts, Terrie (Billy) Chandler, of Taylor, Texas, and Erika Bailey, of Hagerston, Maryland; uncle, Travis Bailey, of Putallup, Washington; first cousins, Tayton Chandler, Garryn Chandler, Hailey Chaney, Tiffany "Tippy" Chaney and Chloe Chaney; great-grandmas, Jeanette Schumann, of Austin, Texas, and Dorothy Kucera, of Bryan, Texas; and numerous great- aunts, great-uncles and second cousins.
A memorial service was held Friday, October 29, 2021, at Green Bank Elementary/Middle School with Pastor Julian Rittenhouse officiating.
Escorting Heroes included Pocahontas County Sheriff's Deputies Bradley Nelson and J. D. Nottingham and Corporal Bryan Shinaberry, West Virginia State Police Sergeant Joseph Comer, Corporal Kevin Williams, Corporal R. A. Waid and Senior Trooper Damon Brock.
Honorary Escorts, unable to attend, included Braelynn's cousins, Tayton Chandler and Garryn Chandler.
The family wishes to express their deep appreciation and sincere thanks for your kind expressions of sympathy. They would like to extend a special acknowledgement to Quinci Donahue, Jeff Hatfield, Mary Walkup, Marsha Sheppard, Caitlin Sharp, Staci Green, Debbie Kyle, Kendal Ober, Jared Clendenen and JD Duncan.
In lieu of flowers the family requests that donations be made to Green Bank Elementary/Middle School to help purchase books in honor of Braelynn's love of reading.
Online condolences may be made at Lantzfuneralhome.com