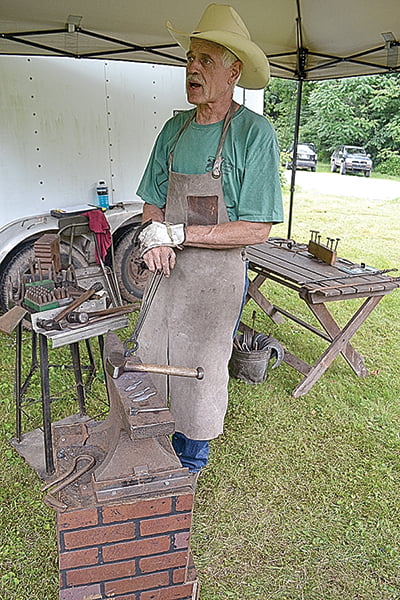 Andrew Bealer
Conbtributing Writer
I am an aspiring blacksmith and friend of Woody and Brenda Harman.
I recently took a trip down to visit them at their beautiful home in the Greenbrier Valley. I currently live in Wheeling. It was a few days off for me and free time to forge and learn some things with Woody.
I met Woody at the Augusta Heritage Center in Elkins last summer (2016). There were only two students, a local guy named Silas and me. It was a great week, no distractions from the forges, and we both had previous experience so Woody just let us go at it but he didn't hesitate to help us when we needed it.
The first night there when we all met, Silas and I wanted to fire up the forges and start right up and that's what we did. Woody had some projects for us to work on, as well; some things that he likes to make for shows he attends. It's always good to learn from experienced smiths because they all have a different way of doing things.
I had stayed in contact with Woody because it never hurts to have people to answer tough questions, especially when it comes to forging. So, finally I had a break and someone to watch the young'n so I headed down for a few days, I even stopped at Flatwoods and was able to find some good tongs at an antique store. You can never have too many tools if you're moving metal for a living.
Once I got to the Harman's, we took a little trip to Marlinton to take care of some stuff at the artisans co-op that Woody and Brenda belong to. Once we got back to the house, though, we went right to the forge.
I tried at first to make some adjustments to one of my tools, but I found it hard to concentrate. I think that was the mountains calling me out of the shop. So we decided to take a little tour of the property and feed the horses and that was good to do considering the long drive. After all that, it was about time to hit the sack and get up for a full day of productivity.
Woody just showed me the tools and let me have at it. I think that's a good way to teach, and he believes that it's best for people to learn things for themselves – all it takes is a good point in the right direction.
He was busy building some new forges so he was available for questions. Still, though, I was having trouble focusing and getting into a groove. I guess it was because I didn't want to get stuck working the whole time I was there so I decided to work on some of his common projects.
One thing I wanted to learn at Elkins was to make a pipe tomahawk. I couldn't do it there because it took a couple tools of his that aren't easy to move. So he got me the stock I needed and showed me the steps of the process and the specific tools he used.
The main tool was a treadle hammer, which is foot powered, and allows for use of both hands while you can still pound the steel. Definitely a great tool to have.
He has an old fly press, too, which is tough to explain but uses a weighted wheel and three-speed thread to exert over a hundred pounds of force at a time. These tools aren't common in all shops and unless you know someone who has them, you don't get a lot of chances to use them.
 I would say Woody has a very versatile shop in the way of tools and that's what it takes for a person like me to learn and expand my skills in this scarce industry.
I hope to one day run my own shop and be able to share my knowledge with interested young people like myself. Being only 20, though, I have been at this a few years now, there's an endless number of things to learn.
Some think blacksmithing is a dying trade, but folks like Woody, Silas and me won't let that happen.