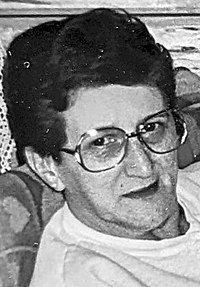 Beverly Ann Nottingham, 82, of Dunmore, passed away Monday, November 7, 2022, at Pocahontas Center in Marlinton.
Born September 24, 1940, in Petersburg, she was a daughter of the late Theodore Jennings Arbogast and Nora Gustova Calhoun Arbogast.
Beverly was an only child, but you would have thought differently by the other family members and neighbors who were always at her house. Once married, she became a farmer's wife and a devoted mother of their four children. Her children were the center of her life, and she was always putting their needs before hers. When her children's needs were finished at the end of the day, you would find her at her parents' house taking care of her mother, who was confined to a wheelchair, making sure the laundry, cooking and cleaning were done. She had no time for hobbies other than her family. She loved to cook, and her gardening and canning skills always kept the family fed. Once her children were raised, she became a Nanny for a couple of families she cared for. She was also a cashier, clerk and manager of the Why Not Shop at Snowshoe and was a member of Dunmore United Methodist Church.
She is survived by daughters, Kimberly S. Nottingham, of Durbin, and Teresa L. Nottingham-Hammons, of Marlinton; sons, John L. Nottingham and Randall L. Nottingham, both of Dunmore; grandchildren, Fredricah S. Gardner, Jake Gardner, Jason T. Cassell, Trevor L. Hammons, Leslie Wilfong, J.D. Nottingham (Julie), Amanda Ryder (Jake), and Brandon Nottingham (Brooke); step-granddaughters, Chazlyn Ham- mons and Jodie Frazee; great-grandchildren, McKenzie, Brooklyn, Kendra and Miley Moyers, Jaydon and Riley Morris, Darrin and Warren Ryder and Thatcher Nottingham.
Graveside service was held Sunday, November 13, 2022, at Dunmore Cemetery with Pastor David Rittenhouse officiating.
In lieu of flowers, donations may be made to the Pocahontas Memorial Hospital Ambulance Service.
Online condolences may be shared at WallaceandWallaceFH.com