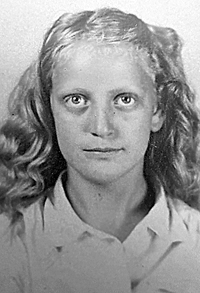 Betty Joe Berry, 85, of Hemet, California, formerly of Marlinton, passed away Sunday, October 23, 2022, at Hospice Care in Fallbrook, California, surrounded by her California family, after the not so short illness of old age. Betty's health was good until a few weeks before her passing, which necessitated her stay in hospice. 
Born September 17, 1937, in Mill Point, she was a daughter of the late Henry and Lola Oscar, who lived on Stephen Hole Run.
In addition to her parents, she was preceded in death by her husband, John H. Berry; sister, Jean Thompson; and daughter-in-law, Lisa Carpenter. 
Betty is survived by her sister, Shirley Wilfong; sons, Henry Oscar and John Berry; brother-in-law, Alfred Thompson; daughter-in-law, Esperanza Berry; numerous nieces, nephews and grandchildren; and her friends in Pocahontas County.
Betty's family is spread from the Atlantic to the Pacific Ocean. Her family tree includes the Cooks, Oscars, Berrys, Pyles and more. If you are a resident of Pocahontas County, you were her family so far as she was concerned. Her extended family on the West Coast covers the state of California. 
Her Life
Over the years Betty worked at Snowshoe, Watoga State Park, Pocahontas County Senior Citizens, and other locations. Whatever was required to take care of her family was what she did. It can honestly be said that she never met a stranger. A few years ago, I brought her from Pocahontas Center in Marlinton to California. While making the journey, I was always amazed that I could leave her alone for a few moments at the airport to order food or visit the restroom only to return to find she had made multiple new friends and was chatting with them as she waited on me to return. She made travel friends on the planes. She asked about their lives, families, friends, etc. People ate it up. They'd tell her their whole life stories. 
My wife and children in California spent much time having me interpret "Grandma's words." I had to explain to them that Appalachian language is a byproduct/holdover of the language from the time of the Revolution. Words like poke, britches, sallet, warsh rag, pop, holler, tater, mush melon, winder, etc. were bafflements to them, but they are richer now for knowing how the better people of this country speak.
In lieu of flowers I would ask that people do something Mom liked. She was a notorious "junk collector." Growing up as a child of the Depression Era, anything could fall into the "might need it someday" column. If you have something you do not need, ask your neighbor if they'd like to have it. Another passion of hers was gardening and canning. Planting an extra row of tomatoes or potatoes for your neighbors or showing up to visit friends or family with home canned goods can only be received well. Finally, her love of dogs and cats – she would definitely be delighted if a few donations went to the Humane Society of Pocahontas County in her name to support that cause.
Growing up, my mother's memorable words to me were, "Behave yourself." As a child and later as a young adult, I never really thought much of those two words. As I approach old age, I cannot help but think there is a lot of wisdom in that simple phrase. The world would be a lot better place with more words like "behave yourself" going around. 
Betty's wishes were that her final resting place be in Pocahontas County, "when it's green and warm after ramp season." Therefore we are planning a service and burial of ashes in the springtime at Ruckman Cemetery alongside her husband and parents.
Date and time will be announced for the event.