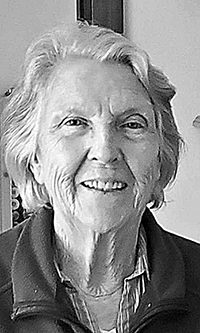 Bernice Ellen Underwood Johnston, 88, of Frankford, passed away Friday, August 11, 2023, at Peyton Hospice House in Fairlea, surrounded by her family. 
Born October 5, 1934, in Renick, she was a daughter of the late Delmer Underwood and Mary North Underwood.
Bernice loved gardening and anything that brought her closer to her family, including genealogy research, reunions and photos.
In addition to her parents, she was preceded in death by sisters, Ethel Sipe, Lula Starrett and Eula Sharp; brother, Charles Underwood; son, Richard Dale Johnston; and grandson, Douglas Wayne Johnston.
She is survived by sisters, Mildred Sharp (Don), of Berkeley Springs, and Norma Burke, of Bullhead City, Arizona; sons, David Johnston (Juanita), of Ren-ick, and Michael Johnston, of Maxwelton; daughter, Carolyn Stringer (Michael), of Southport, North Carolina; grandchildren, Jessica Tatko (John), Stephanie Aouidat (Fattah), Emily Johnston, Rachel Johnston, Stacy Johnston and Nathan-iel Johnston; 11 great-grandchildren; and two great-great grandchildren.
In keeping with her wishes, the body will be cremated.
A graveside service will be held at Woodland Presbyterian Church in Auto at a later date.
In lieu of flowers, donations can be made to Peyton Hospice House, 1265 Maplewood Avenue, Lewisburg, WV 24901. Condol- ences may be shared at www.morganfh.net
Arrangements by Morgan Funeral Home in Lewisburg.