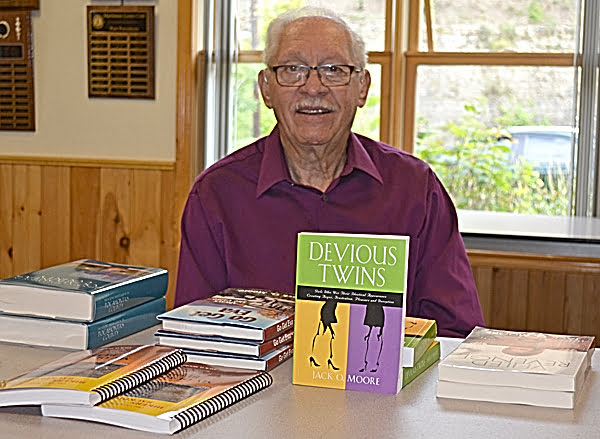 Suzanne Stewart
Staff Writer
When author and Cass native Jack Moore knew he was coming home for the Green Bank High School reunion, he decided he would host two book signings – one at McClintic Library and one at Green Bank Library.
Last week Moore visited with old friends and book lovers at McClintic Library, where he promoted his collection of fiction and non-fiction novels.
His latest book, Devious Twins, was released a year-and-a-half ago, and is a tale of identical twins and their adventures.
"It's a couple of naughty girls, who take advantage of their truly identical appearances," Moore said. "Even the mother felt after they were born that before long, she would notice a difference, but she never could. So they go through life and their different careers and they can do something for the other and nobody knows the difference."
The newest novel is the seventh in Moore's collection. In discussing his path to becoming an author, Moore said he was most inspired to write by his grandmother, Eva, who raised him and her nine children near Cass.
"I'd always had a desire to write about Eva," he said. "I was in college – about the second year of college – when she died. Living with her, I just didn't realize being that close to her what kind of a person she really was until I got away from her. Then you meet other people and see what other people do and how they act, then the more I began to realize that my grandmother was really a special person."
Before writing about Eva, Moore chose to write My Outdoor Buddy, a collection of stories, just to make sure he had the ability to write.
"Before I wrote Go Get Eva, I thought, 'I've got to write something first to see if I can write,'" he said. "I thought, 'maybe I can't write.' So I did Shocking Revelation and I did a sequel to that and then I thought, 'okay, now I think I can write, Go Get Eva."
The inspiration has remained in Moore and while he continues to write fiction more than non-fiction, he tends to use Pocahontas County and his life here as aspects of the stories.
"Shocking Revelation – I tied in some real people there," he said.
Moore held a book signing at Green Bank Library Tuesday before he returned to his home in California.