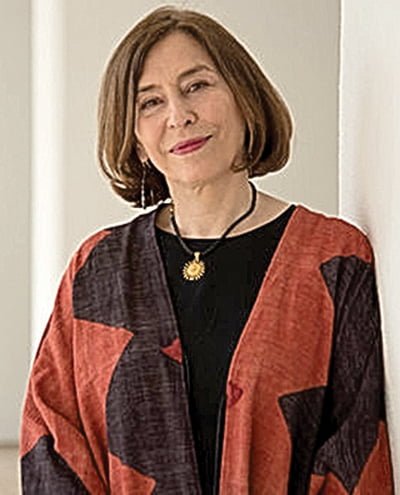 The 2017 Lewisburg Literary Festival will feature Azar Nafisi, an enthusiastic crusader for books and literature, as the festival's main speaker Saturday, August 5, at 7 p.m. at Carnegie Hall.
This event is free and open to the public.
Nafisi writes non-fiction about fiction. She is best known for her memoir Reading Lolita in Tehran, which remained on the New York Times Bestseller List for 117 weeks and has been translated into 32 languages. In the book she details her courageous efforts to teach forbidden Western classics during the Iranian Revolution. She was expelled from the faculty of the University of Tehran for refusing to wear the mandatory veil.
A resident of Washington, D.C., and an American citizen since 2008, Dr. Nafisi has lectured at Oxford University and written for the New York Times, the Washington Post and the Wall Street Journal. She is currently a Fellow at Johns Hopkins University's Foreign Policy Institute. She is the recipient of numerous literary and humanitarian awards, and five honorary doctorates.
"Dr. Nafisi is a true world citizen and a passionate voice for the lasting value of books and literature," said local writer Greg Johnson, Program Chair for the festival. "We're thrilled to bring her to the Greenbrier Valley. She's a departure from the speakers we've featured in the past, but as an Iranian American immigrant, and a believer of the power of literature in the world, we thought she might have some interesting observations to offer on any number of current topics."
Dr. Nafisi's most recent book is entitled The Republic of Imagination: America in Three Books. Using The Adventures of Huckleberry Finn, Babbit and The Heart is a Lonely Hunter, she explores American cultures and values.
"No one writes better or more stirringly about the way books shape a reader's identity, and about the way that talking about books with good friends becomes integral to how we understand the books, our friends and ourselves than Azar Nafisi," wrote Laura Miller of Salon.
Seating is limited. Tickets are available through the Greenbrier County CVB by phone at 888-716-5082 or in person at 905 Washington Street West in Lewisburg. For additional information about this and other events, visit lewisburgliteraryfestival.com