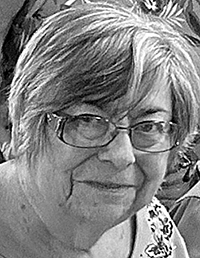 Audrey Carol Fitzwater Friel, 81, passed away Wednesday, September 20, 2023.
Born April 10, 1942, in Slaty Fork, she was a daughter of the late Dorothy Hannah Fitzwater and Thurman T. Fitzwater.
She is survived by her husband, George; children, Theresa Schnake (Greg), Tammy Connor (Jerome) and Bradley Friel (Cheryl); five grandchildren; three great-grandchildren; sister, Allene Bridges (Ed); and brother, Daniel Hammonds (Eileen).
In addition to her parents, she was preceded in death by her oldest brother, Clarence.
Audrey graduated from Marlinton High School, attended college at West Virginia Wesleyan and continued her education at schools in Kansas, Missouri, Maryland (German Campus) and New Jersey.
She had an interesting life as she shared in the military career of her husband. Her greatest accomplishments (according to her) are her children and grandchildren.
A Celebration of Life will be held at Downing Funeral Home in Spring Hill, Florida, Friday, October 6, 2023, from 10:30 to 11:30 a.m. followed by a Chapel Service at 11:30 a.m.
Internment will be in Florida National Cemetery in Bushnell, Florida.
In lieu of flowers, please make any memorial donations to Pocahontas County Free Libraries, 500 8th Street, Marlinton, WV 24954 or a charity of your choice.