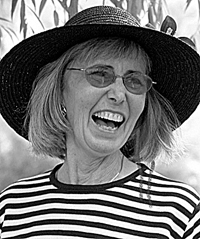 Arnetta June Copelin, 87, passed away at the home of her daughter Thursday, August 18, 2022.
Born May 8, 1935, in Ada, Oklahoma, she was a daughter of the late Ed and Maggie Stephens.
June graduated from high school in Lawton, Oklahoma. She married Farrell F. Copelin in the First Baptist Church of Granite, Oklahoma, on October 11, 1952. During the early years of their marriage, they lived in Lawton, Stillwater, Arnett, Woodward and Edmond, Oklahoma. Later, they lived in Lakewood, Colorado, and then returned to Edmond. After retirement, she and Farrell moved to Bartow to live near their youngest daughter. She also lived in Elkins for several years before returning to Bartow. During the last year of her life, she lived with her daughter, Laura.
June was saved and baptized at Union Valley Baptist Church at the age of 13. She was a faithful member of her church wherever she lived, and often taught pre-school Sunday School classes. June was a woman of service, always putting the needs of her family before herself. She always said that was what God intended for her to do. When her girls were young, she sewed dresses for herself and her girls and made numerous quilts. She preserved the produce from Farrell's big garden and was a devoted grandma. The most important thing she did during her life was care for her daughter, Kim, who was rendered disabled in 1968 when she was eight years old.
June often told stories about how, as a young girl, she had to milk the cows, pick cotton, bring in the wood, and do other outdoor jobs. During her adult life she worked as a secretary for three church pastors and three college department heads. She typed 80 wpm and took shorthand at 120 wpm. She loved her flower gardens, jigsaw puzzles and her Reader's Digest books.
In addition to her parents, June was preceded in death by her husband, Farrell Franklin Copelin, in 2000; daughter, Dian Copelin, in 2009; grandson, Zachary Allen, in 1986; granddaughter, Katie Allen Anderson, in 2019; and sisters, Nevajo Sanders, in 1968 and Mary Sue McCulley, in 2015.
June is survived by daughters, Marilyn Allen, of Edmond, Oklahoma, Kim Copelin, of Marlinton, and Laura Hise, of Dunmore; brother, James Stephens, of Coalgate, Oklahoma; sister, Kay Cannon, of Edmond, Oklahoma; six grandchildren; eight great-grandchildren; and one great-great- grandchild.
Funeral service was held Sunday, August 21, 2022, at Wallace and Wallace Funeral Home in Arbovale.
An 11 a.m. graveside service will be held Friday, August 26, 2022, at Gracelawn Cemetery in Edmond, Oklahoma. Pallbearers will be grandsons Paul Henry, Randy Sanders, Matt Allen, Tyler Hise, Isaac Hise and Jacob Hise. Baggerly Funeral Home in Edmond, Oklahoma, will be in charge of arrangements.
In lieu of flowers, donations in her memory may be made to Sister Doris Clay for Honduras Missions, 3565 Timberglen Road, Apartment 103, Dallas, TX 75287, United States.
As a faithful believer in Jesus Christ, June asked that the following be included in her service: the hymn "When the Roll Is Called Up Yonder, I'll Be There" and the scripture reading from Proverbs 3:1-6. "God was always her strength."
Wallace and Wallace Funeral Home in Lewisburg is in charge of local arrangements.
Online condolences may be shared at www.WallaceandWallaceFH.com