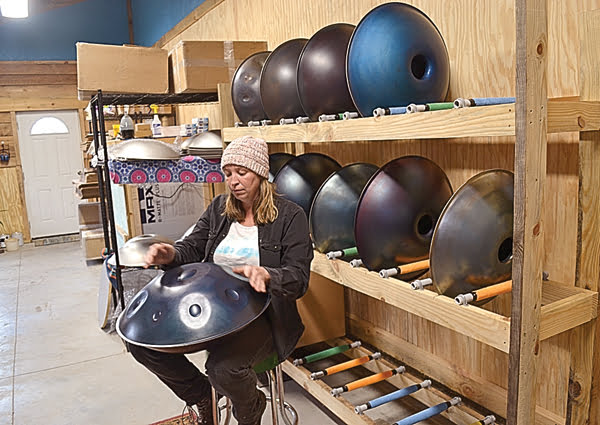 Suzanne Stewart
Staff Writer
When you think about the music of West Virginia, the instruments that come to mind are usually stringed – guitars, banjos and fiddles – but there's a not-so-new kid that has found its way to the mountains. That instrument is the handpan.
The handpan is in the steel drum family – a smaller instrument with a smoother sound than its fellow steel drums.
The father of modern steel drums, Ellie Mannette, moved from Trinidad to America in 1967, and after traveling the country starting steel drum bands, he found himself in Morgantown, where he founded the West Virginia University steel drum program and his own store, Mannette's Steel Drums.
Mannette was also teaching his trade at WVU, and that is where April Moncrief, now of Slaty Fork, was first introduced to the instrument that would lead her to found her own handpan business.
"I learned from Ellie Mannette," she said. "He came from Trinidad, and he went to New York City. He was going out to all these little boroughs and he was setting up steel bands for their inner city youth, teaching them as a way to enrich their lives.
"Then, West Virginia University called him and said, 'would you like to be an artist in residence for a semester,' and he said 'yes,'" she continued. "He started the WVU Steel Band and the University tuning project, and he started teaching students how to build and tune steel drums."
Moncrief wanted a steel drum, but didn't have the money to buy one, so she worked off the price as a tuner at Mannette's store and realized she found her calling.
"It was great," she said. "Unconventional. I actually went to school to be a forest ranger, but I guess rarely do you ever do what you went to school for."
Moncrief continued to work in Morgantown as a tuner and builder of steel drums until 2010, when she moved to Pocahontas County.
"We moved here, and I was still working for Mannette's from a long distance and another company had called us to see if we would be interested in contracting tuning work for handpans," she said. "That was something new for me, but I was like, 'I'll give it a try.'"
After a few years of contract work, Moncrief connected with handpan musi- cian Daniel Waples and the pair created Adinkra Handpans, a business in which they make, tune and sell handpans.
"It took us a couple of years to get it together," she said. "He's originally from London, but he travels the world playing them. He was bringing me some techniques from builders in Europe."
Once the business began to grow, Moncrief's partner, Jorge Montemayor, built a larger workspace for her, complete with a kiln, custom drier and custom tuning station.
"I was in a little ten by ten shed up behind the house doing this," she said, laughing. "So he built this. He's got his man side and his man cave and he built [a space] for me."
As for the handpans, there is a unique and specific process to follow, and it begins with the steel.
"The steel we get is from France," she said. "You want relatively low carbon steel so when you go to tune it, it doesn't break and crack – I've had that happen. It's hard to tune if it's really high carbon."
Moncrief uses stencils to map out where the dimples are pressed into the rounded pan top. Then, she uses dies and a 40-ton press to create the dimples.
"After I do that, I put them in the kiln and heat them to about five hundred degrees," she said. "It makes a pretty blue color on them for the finish and it hardens it a little. It makes it a little easier for me to use."
Next, the handpan top goes into a custom-made round clamp where she can tune each dimple with a certain note.
"There's a guy in Lynchburg who made it for me," she said of the piece of equipment. As I'm working on the notes, I can turn it. I don't know how I ever did without it."
Now that handpans are becoming more popular, there are specialized tools on the market, but there are still some old ways of doing things that Moncrief prefers to use.
"People are making specialized tools, and it makes my life easier, but I have some of my hammers from when I was still building steel drums," she said. "We just used ball peen hammers. There are more specialized hammers for tuning, but these work fine for me. I've had them forever.
"I have my stroboscopic tuners," she continued. "There is a new program called Linotune that's come out. It's a program on the computer that pretty much does the same thing, but I'm just not used to it.
"I'm old and set in my ways."
After the handpan top is tuned, Moncrief glues it to a bottom that has a large hole in the center She then sets them inside a drying rack for five days before the process is complete.
While they are in the same family, Moncrief said there is a difference between the more recognizable steel drums and the handpans.
"Steel drums are made from a fifty-give gallon steel barrel," she explained. "There are nine instruments in the steel drum family ranging from the lead drum which is the soprano voice, all the way down to bass drum. They are played with mallets and are primarily played together as a steel orchestra.
"Handpans are made from sheet metal and are tuned to a variety of different musical notes," she continued. "The notes on both steel drums and handpans are tuned with three pitches on one note surface – the fundamental, octave and fifth – although on steel drums, many notes are tuned also with a second octave above the fundamental pitch."
The handpan also has a softer sound, while the steel drums are loud and more upbeat.
At this time, Moncrief said the Adinkra Handpans website is under construction, but once it is complete, she and Waples hope to provide more than instruments on the site.
"Daniel is coming up with an instructional video to put up on our website for people who are buying our instruments or anybody who wants a good lesson on how to start playing," she said. "He's the handpan ambassador.
"I feel like, I'm the grunt," she joked. "I'm the background person – always have been with that kind of thing – with building and tuning."
Those interested in purchasing an Adinkra Hanpan may contact Moncrief at amonpangirl@yahoo.com