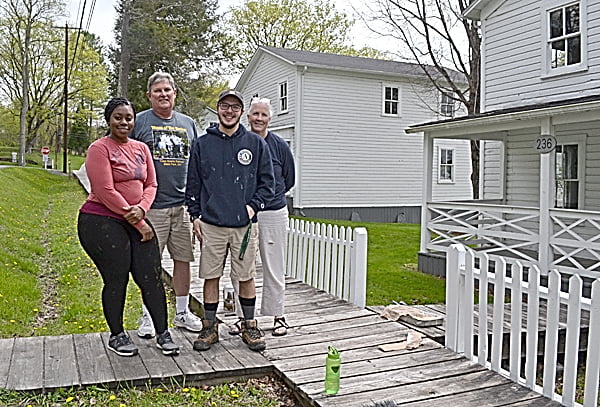 Suzanne Stewart
Staff Writer
A group of AmeriCorps volunteers spent last week at Cass Scenic Railroad State Park channeling Tom Sawyer as they painted the fences along the rows of company houses. Unlike Sawyer, though, the group didn't try to pawn their responsibilities off on unsuspecting passersby. Instead, they happily enjoyed the week of giving back to the state park.
The group was working as part of Preserve West Virginia AmeriCorps, Sharell Harmon's Civic Service Project. Harmon, of Elkins, planned the project and said she wanted to give back to the state park for all that it gives to West Virginia and its visitors.
"I just got together this group of volunteers to come out here because I enjoy Cass and the employees here, and what they do for the park," Harmon said. "I wanted to give back to Cass and the state park employees by giving our time to do things they probably don't have time to do."
The group consisted of six volunteers – mainly AmeriCorps – Harmon and her three children.
West Virginia AmeriCorps tries to have a Civic Service Project every winter and spring.
"This is my spring project," Harmon said. "It was a good time for us. We did it this time last year, so it's kind of like an anniversary."
In addition to the work at the company houses, the group applied yellow paint to the sidewalk steps for safety purposes.
Kyle Bailey left the painting to others while he focused on cleaning up trash along the Greenbrier River.
There's still fence to paint, so the group will return throughout the summer to get the job done.