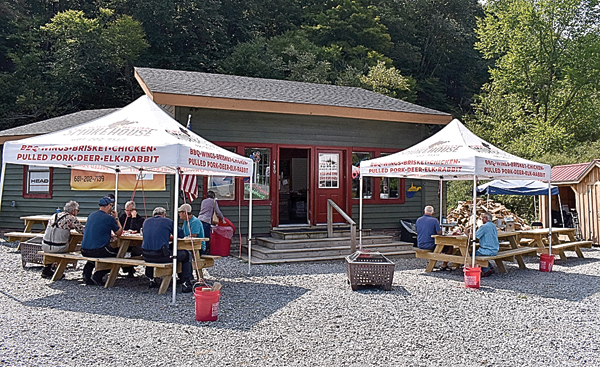 Suzanne Stewart
Staff Writer
At the base of Snowshoe Mountain, you'll find a place where wild game and traditional sides give diners plenty of options for a perfect meal. That place is Almost Heaven Smokehouse, owned by Derek Hayhurst.
Hayhurst, a retired coal miner, moved to Pocahontas County several years ago with his wife, Marlinton native Shenda Smith, and their kids, Haylee and Braeden.
He opened a barber shop, The Barber Stop, at Snowshoe, before starting his new venture with the smokehouse in November 2021.
It may be his first time in the restaurant business, but Hayhurst is no stranger to grilling and smoking.
"I always did a lot of smoking meats," he said. "Anytime there was grilling, I was always cooking, but never on this scale."
There is a wide variety of meats to choose from at the Smokehouse.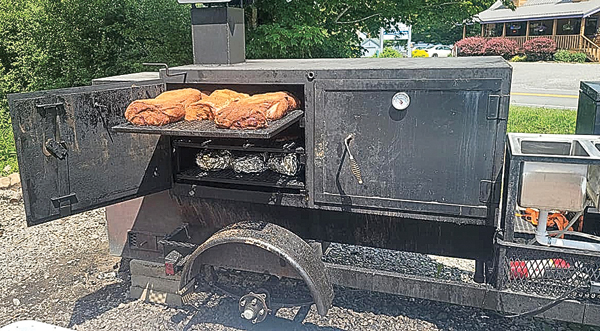 On the menu is the classic pulled pork and brisket, as well as whole chickens, chicken wings, chicken quarters, ribs and bratwurst made from boar, rabbit, duck, venison, elk and pheasant.
The meats are smoked anywhere from 20 minutes to 12 hours.
The menu of sides is just as varied as the meat offerings. Diners may choose from potato salads, macaroni and cheese, bacon wrapped poppers and bacon wrapped asparagus, just to name a few.
"We've got a pretty steady menu, but we also have specials," Hayhurst said. "We have a lot of seafood and some new sides."
In addition to serving lunch and dinner at Snowshoe seven days a week, the Smokehouse also caters and travels to fairs and festivals. Whatever event you have – wedding, birthday, anniversary, bus-iness celebration – the Smokehouse can help you – it will show up with all you can eat.
"I need another smoker and a food truck right now," Hayhurst said. "We want the food truck so we can have another kitchen, and we can add breakfast. When spring comes and we're doing fairs and festivals, we can have the two smokers and food truck going in different directions."
There is room for indoor and outdoor dining at the Snowshoe location, as well as takeout options.
Having two businesses, albeit within a stone's throw of each other, can be difficult, but for Hayhurst, it's not a struggle because he has employees at the Smokehouse whom he can trust when he is at the Barber Stop.
"You've got to have the right people, and I do," he said.
Almost Heaven Smokehouse, 480 Cass Road in Slaty Fork, is open seven days a week, 11 a.m. to 9 p.m.