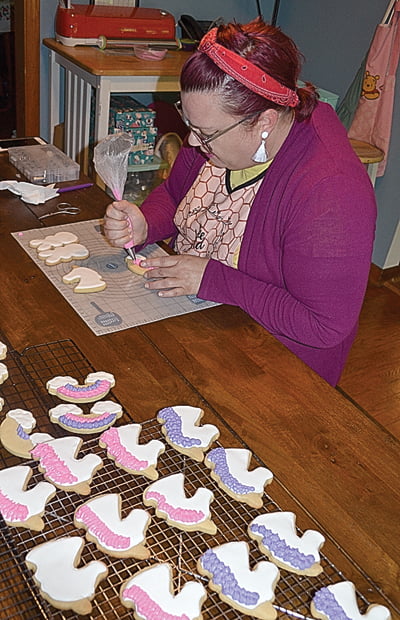 Suzanne Stewart
Staff Writer
Sometimes, people carry a childhood hobby with them through their lifetime. Other times, they find something through the help of friends and turn it into a small business.
For Marlinton resident Brandy Cassell, the latter is true of her new business, Sugar Buzz Cookies.
It all began last winter when Cassell was looking for a hobby to keep her busy, and she found posts online about sugar cookies. She didn't think much of it until a few months later when she talked to her friend, Marlinton native Scharlie McComb, who bought her a cookie decorating kit for Christmas.
"I didn't do anything with it then," Cassell said, laughing. "I think in February, I went down to visit her and she signed us up for a decorating class. We just really enjoyed it and we went and bought a bunch of supplies."
It wasn't until spring, though, that Cassell finally took out the supplies and made something – 30 somethings actually.
"I did some cookies for my cousin's birthday," she said. "I did thirty for thirty, so I made her thirty different cookies, which took forever."
From there, friends who learned of her new hobby asked Cassell to make cookies for them and before long, she was in business.
"I just had some local girls that I made cookies for as gifts, and they started ordering cookies for Easter and then it just kind of blew up on me," she said. "I got my Facebook page, and then I got orders from people in Georgia and Pennsylvania."
After that, there was no turning back, as Cassell put it. Instead, she came up with a name and got help with a logo.
Cassell knew she wanted a bee-related name and started with Sweet Bees, but thought it didn't match her personality. Sugar Buzz took the cake – or cookie.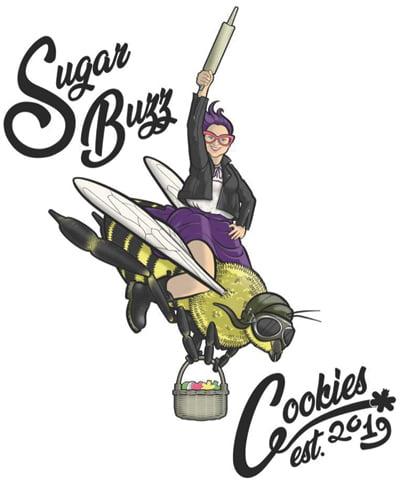 Her cousin, Jessica Beverage Suvanto, happens to be married to a graphic designer – Dan – who created the logo which shows Cassell wielding a rolling pin while riding a large honeybee.
"He did an amazing job," Cassell said. "It's been cool because I've been able to reach out to small businesses like him and Scharlie. We have that little network of small businesses giving each other shout outs on Instagram because that stuff really helps."
The small businesses who have helped include fellow sugar cookie artists who gave Cassell pointers and led her in the right direction.
Granted, it's hard to mess up a sugar cookie recipe – it's the decoration that takes an artistic eye. Something Cassell happens to have.
"I only do sugar cookies, and it's really great because when you only do one thing, you can be consistent with it," she said. "Which is what I really like about it. You know if you mix these ingredients together, you're going to get the same cookie over and over.
"If we had been doing science like this when I was in school, I might have been interested," she continued. "Humidity effects how much flour you need to use and stuff like that. For the most part, you know you're using flour, eggs, sugar and you know what you're going to get. That's the good thing about it."
Once the cookies are finished, the decorating begins. Using a multitude of colors in both royal icing and buttercream icing, Cassell turns the plain sugar cookies into colorful characters and designs. She has cookie cutters in all sorts of shapes and sizes, and isn't afraid of any of them.
Her most popular shape thus far has been unicorns, which are accompanied by rainbow-shaped cookies.
"Everybody wants unicorns," she said. "Unicorns have been the thing just because it seems everybody is getting stuff for their little girls. There's not anything in particular I won't do. I like the buttercream flowers, those are beautiful. A lot of people are doing hand painting. I've done a couple of those, so there's all kinds of cool techniques, and I'm not beholden to any one style."
The cookies are for all occasions and Cassell has already made batches for birthdays, graduations and baby showers. She's hoping more people will give her a chance to make cookies for their special occasion.
"I don't know if this is a trend that will last because cupcakes were so big, but just having this available to people in our area, I think that's great because it's something that's local and handmade," she said. "I like that idea, too."
While she's only been in business a few months, Cassell said she hopes Sugar Buzz Cookies turns into a full-blown business. Right now, the cookie business is what Cassell does when she's not at work at The Greenbrier Birthing Center.
In the future, though, she would like to think there is room in the county for a small cookie shop where she could take the business out of her home and into its own storefront.
"That's pretty far down the road, but I would love to have something in town where people could come and hang out and eat some cookies, drink some milk," she said. "That's way down the road, but if things took off, that would totally be possible."
To order cookies or to see the variety of cookies available, visit Sugar Buzz Cookies on Facebook.