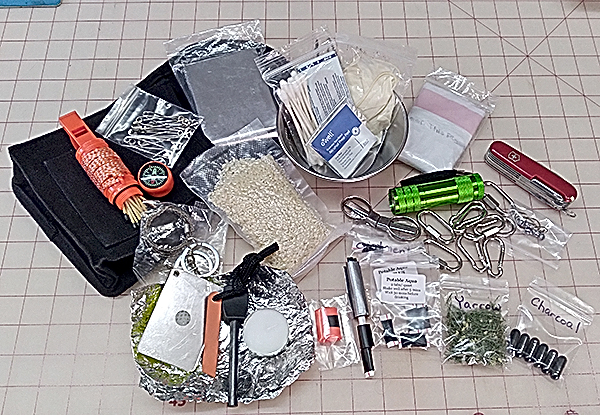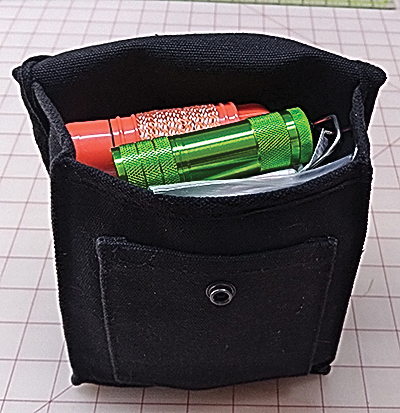 Melondy Phillips
Staff Writer
 
When my boys were young and we would go on hikes or camping trips, I made it mandatory that each one of us had to wear a necessities pack on our belt at all times. I taught my boys what each item was, what it could be used for if they got lost or hurt, and how to use it. Training is important. If a four-year-old was sat down in front of a sewing machine without any instructions or ever having seen one previously, would that four-year-old be able to use it? However, even a three-year-old can learn how to blow a whistle or wrap a strip of cloth around a bleeding wound to help it stop. And think about it, what kid wouldn't have fun reflecting sunlight off a mirror at someone. Yet, if they got lost, these simple skills could help keep them alive and get rescued.
To make these packs I first had to decide on their size and shape. At the time, my boys were young and I knew the packs had to be small enough not to be a hindrance. I wanted the boys to be able to wear the packs at all times without noticing they were there – as much as possible. I also had to decide on a style tough enough to survive my boys.
Once I had the packs, I then had to plan on what items would fill them. Every item had to be compact, long lasting and serve at least one important need or function, if not more.
Here is a list of items we use to carry. This will be broken up into two parts since I will go into some details about each piece. Remember, this is only a necessities pack and not a full-on survival pack. This pack should be small and easily carried by a child, who has been taught how and when to use each item, in case of a short-term emergency.
• Piece of steel or magnesium stick: for starting a fire
• A piece of flint (hard rock) could be added to this pack but with the abundance of rocks where we go, it wasn't necessary to carry. Hard rocks similar to flint, such as agate, jasper, quartz, obsidian and chert, can also be used.
• Having a bit of charred linen sealed in a small plastic bag provides a dry substance to catch a spark on. Other tinder items that work well are: grass, wood shavings, fine pine bark with resin, pine needles, spider webs, straw, leaves, cattails, lint from a dryer and moss to name a few. The tinder must be dry. Wrapping damp tender in a T-shirt or piece of scrap cloth to draw out moisture and then laying it in the sun is one way to dry it. Another way is by using friction from rubbing rocks together with the tender in between.
• Side story: Upon receiving a piece of flint for the first time, my three-year-old child ran about the yard striking it on anything metal he could find until he discovered, with excitement, that the wheel of our old wheel barrow created a spark. EUREKA! "Oh boy," I thought. Fortunately, it took a bit more practice to develop the tiny spark into a fire.
• Rope saw: for cutting wood to build a fire or shelter
• Try practicing how to build a simple shelter before embarking on a nature adventure. If lost in the woods, having shelter to protect from weather and predators could greatly increase the survival rate.
• Tiny stainless steel folding pot: for boiling water
• Clean water is essential for life. If the only source of water around is a stagnate pond, water must be filtered and boiled before consuming.
• Compass: It's important to know how to read and use a compass before journeying out into the wilderness.
• Whistle: The sound of a whistle will carry farther and louder than most human voices, and with a lot less effort than yelling, so rescuers can find you more easily.
• Knife or multi-tool with a knife (in its own holster on the belt)
• A knife is an invaluable multi-purpose tool in a survival situation; cutting paracord, tool for building a shelter, securing and cutting up food sources, starting fires, close proximity defense, etc. 
• If the knife has a 1095 carbon steel blade and heat treated correctly, this can also double as a good fire starter tool used with flint; eliminating the need to carry a separate piece of steel. Most other knives, or other metal objects, work fine with a magnesium fire starter stick. If the spine of the knife is rounded, it may not throw a spark but using the edge of the blade could cause quick dulling or chipping of the blade.
• Micro first aid kit
• Cotton swabs
• Scissors: as long as they are sharp, a small folding pair should suffice
• Bandages: can be premade/ simple, or gauze pads and tape, or bits of sterilized cotton cloth, etc.; consider space and possible needs
• Ointment: I make my own ointment which, in my opinion from more than 15 years of using it, works a lot better than store bought stuff
• Iodine tables and chlorine tablets for water purification: When I was young, my dad always had these tablets for water purification in our camping gear. One tablet was for purifying everything in any highly questionable water source while the other was for seemingly safe water or to help improve the taste of the water from the first pill. Before going out camping, my dad filled two cups with water and added a different tablet to each of them. After the tablets fully dissolved, he took a sip of each and had me do the same. The look on his face gave away what I would soon find out, one tasted much worse than the other one. He said the experience was to prepare us for later, in case we needed to use them, we knew we could. I'm thankful for those not-so-pleasant teaching moments. To not be sheltered from every storm, but to give me strength in knowing I could survive the storms to come. Because I had survived before, fear had less power.
• Tweezers: mainly for splinters but can be used for other things, as well
• Latex gloves: can be used for more than just protecting hands from bodily fluids, it can also be used to hold water or be tied around an arm or leg to keep applied pressure to a heavily bleeding wound, etc.
• Gauze: not really necessary since leaves can be used but nice to have if space allows
• Alcohol wipes: cleaning wounds
• Plastic trash bag
• This is not for trash. A plastic trash bag takes up very little space but is instrumental at sourcing water when no ground water is easily available.
• One activity I had my children do when they were young was getting water from the forest when no ground water was around. Now-a-days, there are many videos and online resources for how to achieve this; unlike way back then.
• Waterproof mini flashlight: replace the batteries every year or have a mini solar powered or hand crank flashlight
• Safety pins: you never know when this small item could be helpful
• Emergency blanket: for warmth and rain protection
• Small candle wrapped in foil
• The candle and foil can be used separately or together. The foil should be multiple layers thick. When burning the candle for heat and/ or light, wrapping the foil under and around the candle can direct the heat and light. It will also capture the melting wax to help it last longer.