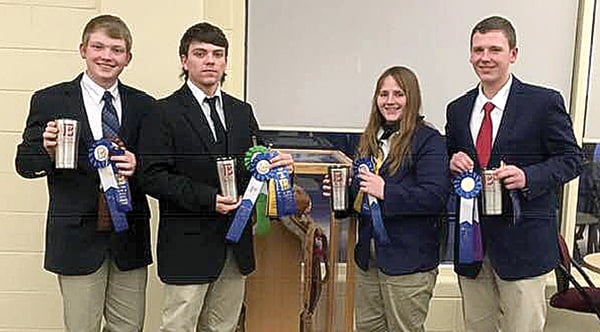 The Pocahontas County 4-H Senior Horse Judging Team competed at the Virginia Tech Horse Judging Contest February 9 and were named the high point team for the 4-H Senior Division. Team members were Charity Morrison, Noah Barkley, Trevor Wilson and Benjamin Davis.
There were a total of 13 Senior 4-H teams from across Virginia, and contestants were asked to evaluate a total of eight classes. Prior to the contest, students and coaches are given a list of potential classes to prepare for but each contest is different, and they never know what breeds and performance classes they will be required to judge. Preparation consists of learning the breed requirements and scoring system for all potential classes. Four of the classes presented at Virginia Tech were halter classes consisting of American Saddlebreds, Hunters in Hand, Stock Horse Mares and Stock Horse Geldings. The remaining four classes were performance classes and consisted of Hunt Seat Equitation, Western Pleasure, Saddlebred Pleasure and Ranch Riding. The last scored division is the oral reasons. Contestants prepare and give from memory an oral presentation to a judge on their placings in three different classes.
The Pocahontas 4-H Senior Team won numerous individual awards in the halter, performance, reasons and overall divisions with Trevor Wilson named the First Place individual in the Performance Division. The Team was third place in Halter Division, second place in Performance Division and first place in Reasons. These scores were high enough to give the Pocahontas Team first place overall.
The Senior Horse Judging Team will continue to practice with their coach, Susan Davis, and will compete again April 27 at the West Virginia State Horse Judging Contest at Potomac State College in Keyser.