Connie Burns
WVU Extension
 
Thirty-two Pocahontas County 4-H and FFA members showcased their many hours of hard work March 17 as they exhibited and sold hams, bacons, and eggs from their projects in 4-H and FFA. At the annual sale held at Mitchell Chevrolet, 27 hams, 27 bacons and 17 dozen eggs were sold.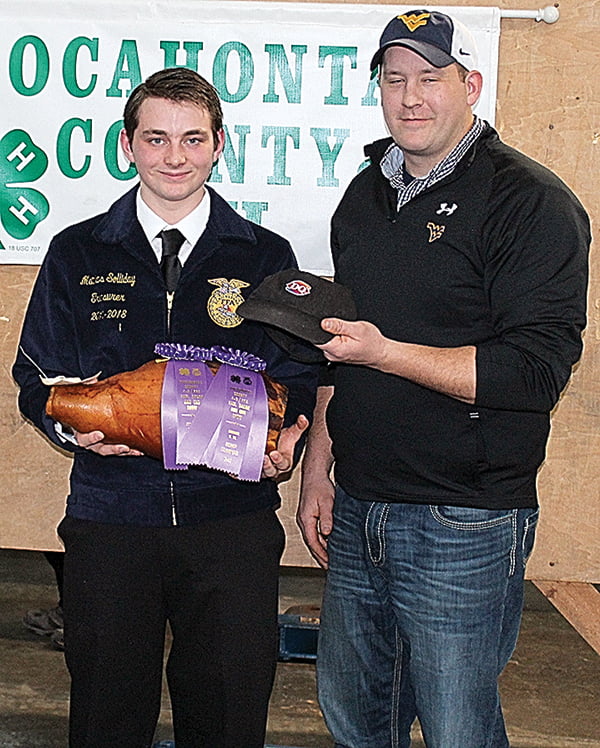 The Grand Champion Ham, weighing 21.52 pounds, was exhibited by Mathias Solliday. The ham was purchased by Dairy Queen for $860.80.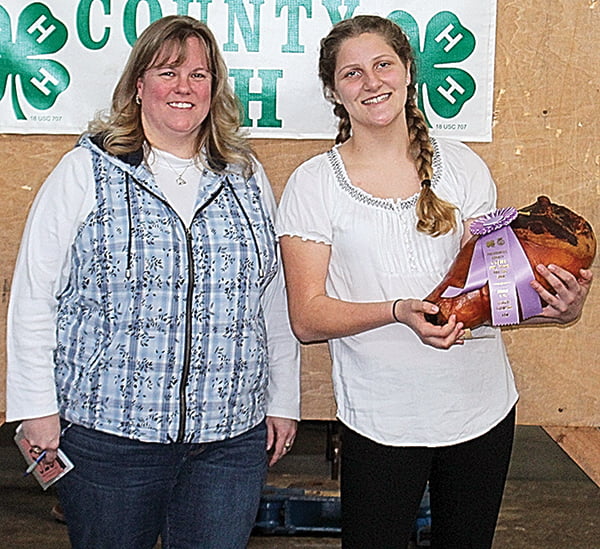 The Reserve Champion Ham, shown by Hazel Riley, weighed 21.80 pounds and was sold to Snowshoe Mountain Resort for $872.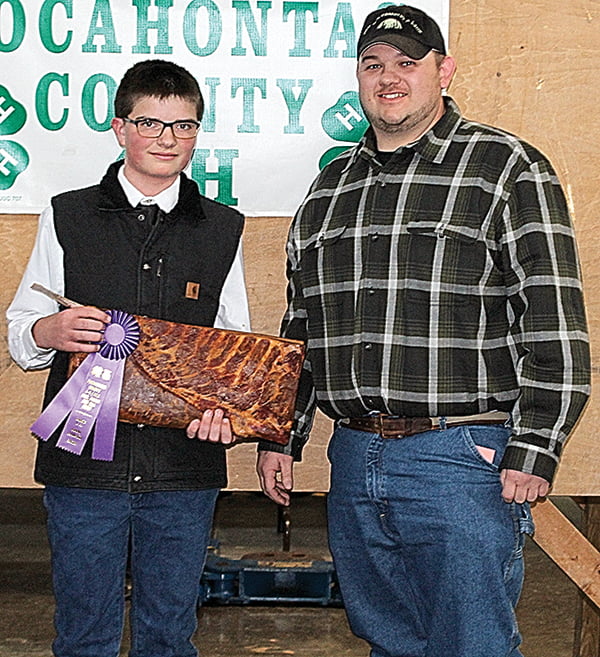 Jacob Kinnison exhibited the 8.30 pound Grand Champion Bacon which was purchased by Pine Run Forestry and Land for $431.60.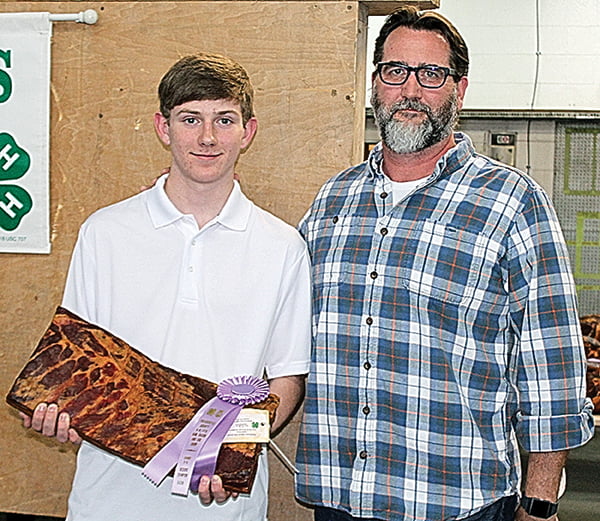 The Reserve Champion Bacon, weighing 9.70 pounds, was exhibited by Ethan Armstrong and was purchased for $397.70 by Ralph H. Burns & Son.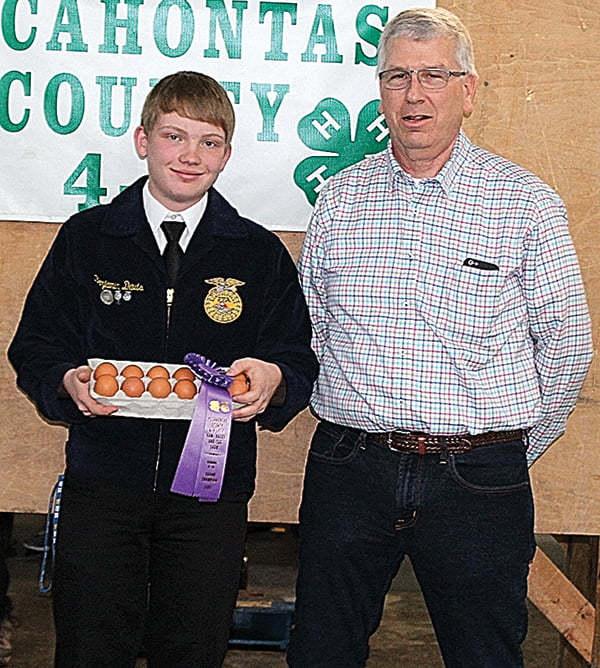 The Grand Champion Eggs, shown by Ben Davis, sold for $210 to Mitchell Chevrolet.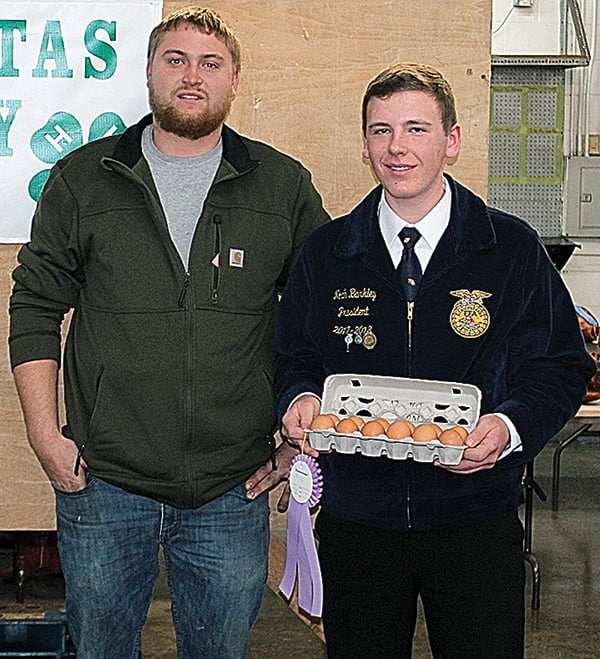 The Reserve Champion Eggs, shown by Noah Barkley, were purchased by Mountaintop Logging for $280.
In addition to the Grand and Reserve Champions, bidders attending the auction had a chance to buy 12 Prime hams, 11 Choice hams, two Good hams, 17 Prime bacons, eight Choice bacons, three dozen Grade AA eggs, eight dozen Grade A eggs, and four dozen Grade B eggs shown by 4-H and FFA members.
Members selling these products included Allyson Alderman, Andrea Alderman, Kolton Alderman, Ethan Armstrong, Jessica Armstrong, Noah Barkley, Aliza Carr, Emily Casto, Kyle Cohenour, Ben Davis, Jaryd Friel, Ramona Hardy, David Jordan, Mark Jordan, Robert Jordan, Tessa Jordan, Cody Kiner, Tessa Kiner, Jacob Kinnison, Charity Morrison, Nathan Morrison, Emma Riffe, Hazel Riley, Silas Riley, Amelia Rose, Mathias Solliday, Kelsi Taylor, Jacob Taylor, Kinley Taylor, Wade Taylor, Mya Workman and Wyatt Workman. 
Support from businesses in and out of the county created a sale volume of $24,309.65.
 
The following businesses and individuals supported the event: Southern States, Mitchell Chevrolet, Harvest Equipment, Pendleton Community Bank, Pine Run Forestry and Land, Snowshoe Mountain Resort, J & A Trucking, Dairy Queen, Appalachian Aggregates, Eugene Simmons, Ralph H. Burns & Son, Pocahontas Memorial Hospital, Inter-State Hardwoods, Inc., Mountaintop Logging, Hardy Law Firm/Josh Hardy, First Tract Realty/David Simmons, Farm Credit, Burns Motor Freight, Sara Bailey, Travis Taylor Contracting, Citizens Bank of West Virginia,  Mosesso Agency, Johnston Logging, Murdock Racing Stable, Fran Madison, Joe Walker, Taylor Construction, Jay Miller, Jessica Hefner, Paul Hill Farms, West Virginia Insurance Company and Brian Tankersley. 
Generous donations totaling $1,460 from Gibson's Feed and Grain, City National Bank, Cara Rose, First Citizens Bank, and Curtis and Tammy Hively will be divided equally among all participants. 
One final ham was auctioned off at the end of the sale for $2,000 to benefit the FFA Foundation and be used for scholarships.  It was purchased by Mitchell Chevrolet, Joe Walker, R. W. Burns, Josh Hardy, Paul Alderman and Paul Hill.
The 4-H and FFA members greatly appreciate the support of the buyers, Auctioneer Ben Wilfong, Show Judge Howard Henderson and Mitchell Chevrolet for their contributions that made the sale a success.