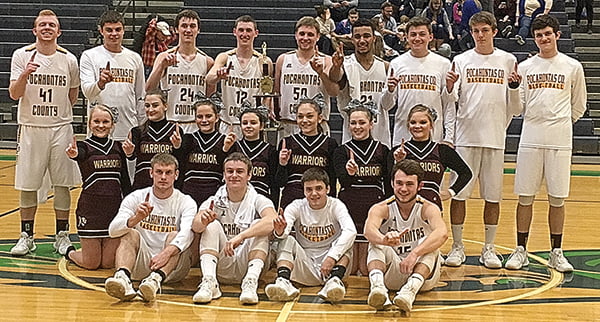 The Pocahontas County High School Warrior Boys Basketball team traveled to Clarksburg Saturday to take on the Van Bulldogs at Robert C. Byrd High School in the 2018 West Virginia Hometown Invitational Tournament.
The Warriors won the Championship game 73– 51, bringing their season record to 17 – 2.
Four players scored in double digits Saturday night.
Briar Wilfong had 23 points; Logan Dilley, 16; Jarret McLaughlin, 13; and Elijah Robertson dropped in 10.
Briar Wilfong was named to the All Tournament Team.
The Warriors will travel to Mill Creek Friday, February 16, to take on another pack of Bulldogs – the team from Tygarts Valley. Game time is 7:30 p.m.
The boys will travel to Pendleton County to take on the Wildcats Monday, February 19. JV game at 6 p.m. The varsity will play at 7:30 p.m.
The Warriors will host the Meadow Bridge Wildcats at home Thursday, February 22. JV will play at 6 p.m.; varsity at 7:30 p.m. The evening will include a Salute to our Veterans.
Admission to the game is free for all veterans.