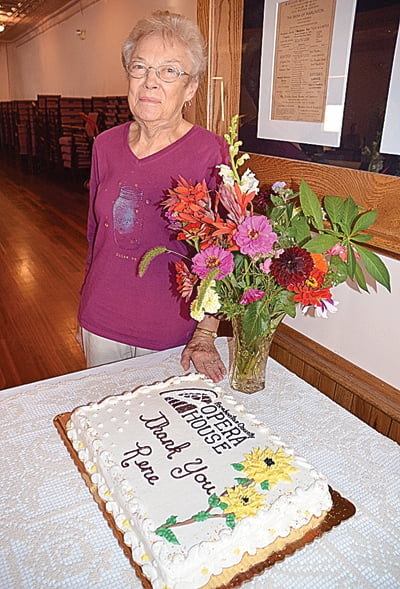 Laura Dean Bennett
Staff Writer
She's been of inestimable value to her family and her community – in her work, her clubs and on the Pocahontas County Opera House Board.
Almost everyone around Pocahontas County knows Oreana "Rene" White.
You know the old adage, "if you need something done, ask a busy person."
That sums up this lady.
Rene grew up on Douthards Creek on her great-grandmother's farm.
"My Grandma, Levia Alderman Ryder, was a lady of the old school," Rene said.
"She was very old fashioned and very strict.
"But I had a good childhood – I certainly enjoyed growing up on the farm.
"We walked everywhere. We had no other transportation.
"I helped out doing whatever needed doing.
"We gathered greens and sheared sheep in the spring. We had a big garden every year and, of course, I helped plant the garden, and I pulled a lot of weeds.
"I remember picking huckleberries on Brushy Mountain in August every year.
"Grandma sewed and made all our clothes out of feed sacks and home-spun wool yarn.
"She spun the wool from our sheep to make warm winter socks.
"When I was young, I didn't much care for those wool socks, but there are times nowadays when I could really use a pair of socks that warm," Rene said, with a chuckle.
Rene went to Minnehaha Grade School, which was located near the boys' camp, then had one year at the Huntersville School before attending Marlinton Junior High and graduating from Marlinton High School in 1956.
She's known as an accomplished seamstress and quilter and credits her high school Home Economics class with teaching her how to sew.
When Rene was growing up on Douthards Creek she said she would have liked to join 4-H. Back then there were many 4-H clubs in the county – more than there are today – but "it was too far to walk to the 4-H meetings," she explains.
But she got her chance to experience 4-H up close and personal as the leader of Minnehaha Braves 4-H Club for many years.
In 1971, the Minnehaha 4-H club found itself in need of a leader. Then county extension agent Bob Keller asked her to take it over.
Rene, in her typical self-effacing way, said she had no experience with 4-H and didn't think she could do it.
"But Bob said, 'Sure you can!' So I took it over, and it worked out just fine," she said.
She was their leader for more than 35 years, until her replacement, Jamie Friel took over for her.
"I love 4-H," Rene said.
"I think the best thing about 4-H is that it teaches important life lessons.
"The kids learn by doing their projects. They gain self-confidence and get experience with public speaking by doing demonstrations and presentations.
"They get a chance to win blue ribbons at the county and state fairs, and they enjoy fellowship with other 4-Hers and have a chance to make lifelong friends at 4-H camp."
"During one of the last years as leader, I had Amelia Rose – a child of one of my former 4-Hers – Cara Rose – in the club.
"I don't know how many youngsters I worked with altogether.
"The Minnehaha club was small compared to the other clubs in the county. There were usually ten or twelve kids in the club each year, so over the years, there were lots of them."
It may have been a small club, but it did big things.
During the 1970s and 1980s, Rene and her Minnehaha Braves were very active in the community.
"I remember we had a lot of fun making floats for the Pioneer Days parades and the Christmas parades," she recalled.
"One year we did a Little Drummer Boy float, and it was one of our best.
"Nancy Jo Mullens played the little drummer boy, and we had shepherds and the songs playing. It was so nice.
"My favorite float was the one we made for Pioneer Days one year. We honored the very first West Virginia 4-H club – the "Corn Club" of Monroe County. Incidentally, that club was originally for boys only.
"We covered the wagon in dirt and planted living corn plants all over it. The kids riding on the float were dressed in overalls and were carrying hoes and garden tools like they were working in the corn field.
"One year we did a shotgun wedding float, and one time we recreated an old schoolroom, complete with actual old-timey school desks, the schoolmarm and a dunce stool.
"It was always fun. The kids had fun, and we learned a lot."
"Every year at Christmas we did a Christmas play or program at the Minnehaha Methodist Church.
"My favorite was Mr. Brooks Goes to Bethlehem in which Phillip Brooks (the author of the popular Christmas hymn) visits Bethlehem and writes the song while he is there."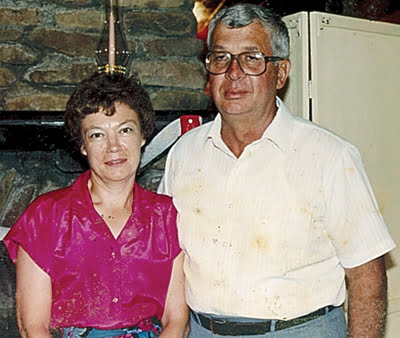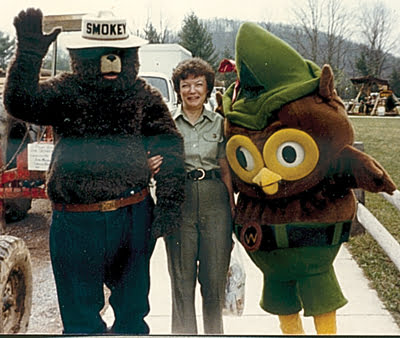 In 1959, after Rene married deputy sheriff Max White, her mother-in-law, Edna White, invited her to join the Minnehaha Farm Women's Club.
These were the clubs sponsored by the West Virginia University Extension Service which then became known as the Homemakers Club and are now known as CEOS (the West Virginia Community Educational Outreach Service).
The "Farm Women" met in each other's homes, and sometimes at the Minnehaha school house.
The Minnehaha CEOS still meets in member's homes today. It's one of the things that many members say makes it so special.
Rene's been a faithful member of the club for 59 years now.
"We were mostly farm women," she said. "Most did not work outside the home.
"I was newly married, and I learned a lot from being in the club.
"I got to go to Jackson's Mill for meetings, and I really appreciated the fellowship with my friends in the club. And I still do.
"The CEOS clubs back then were really active. There were more of them in the county and there were more members in the clubs.
"When we had our fall banquets in the Methodist church in Marlinton, the whole basement would be packed full of Homemakers.
"At our monthly meetings, we had fellowship, fun and refreshments – usually a pie or a cake, and some mints and nuts would be set out.
"It was Ellie Howsare who first started serving meals, and I guess it caught on pretty well, because these days, when the Minnehaha CEOS club meets, the hostess always has a little feast of good food for us to enjoy."
Her husband, Max, was also quite active in civic organizations.
He kept the baseball leagues – Little League to Senior League – going. He was in Lion's Club and volunteered for Habitat for Humanity.
The couple was married in Moyers at the St. John Lutheran Church parsonage where Max's uncle was a Lutheran minister.
Rene bought a special dress for the wedding from Lang's Dress Shop in Marlinton, and the newlyweds took a honeymoon trip to Williamsburg, Jamestown and Virginia Beach.
After his stint as Deputy Sheriff, Max continued farming and then went to work for Westvaco, first in Covington and then in Marlinton as the manager of their woodyard until the train stopped coming through.
Rene had a career with the U.S. Forest Service for 35 years – first as a clerk/typist and then as a support service specialist, in Neola and then in the Marlinton office.
Rene had loved the Opera House since she was a child.
"I always thought it was such a grand old building," she said.
She got involved with the Opera House "back in 1996 or so."
"Ruth Morgan was really instrumental in getting the Opera House back to its glory," Rene remembers. "She started speaking to the county commission about restoring it.
"She started working to get grants, and finally she did get a grant to start working on it.
"The physical work was done by the Allegheny Restoration Company, but there was a lot of other work that needed to be done, too."
Morgan was looking for people to work on the Opera House Foundation board, and she asked Rene to help.
"There were so many decisions to be made and so much work to do," Rene said.
"We didn't have any money back then, so we set about raising money."
The Opera House chairs, which are used in the Opera House today, were acquired by the original board members selling honorary and memorial plaques which were affixed to each chair that was purchased.
Lauren Bennett, also one of the first members of the community to be involved with the Opera House, worked with Rene on a lot of projects.
"Lauren and I came up with the idea to have New Year's Eve dances there," Rene said.
"We bought the Christmas decorations – which we still use to decorate the Opera House during the holidays – with a town grant that Doug Dunbrack was instrumental in getting for us.
"We started having shows in 1999, I think.
"The very first show was by an Irish band from Lewisburg called "Poteen." I had first seen Poteen at a Taste of the Town event in Lewisburg. I loved that band and was so excited that we got them for our first show."
Also on stage that night was a barber shop quartet that Morgan had wanted.
"As it turned out, I couldn't attend that first show," Rene recalls. "Max had a reunion of Army buddies in Canton, Ohio, and I went with him."
In her more than 22 years working on the Opera House board, Rene did whatever she could to help. Besides being a board member, she held the position of President and Vice President.
She took on the labor intensive task of caring for the tablecloths – gathering them up after each Opera House function, carrying them back and forth, washing and folding them, for the past 15 years.
Following a difficult recovery from knee replacement surgery this year, Rene has reluctantly decided to step down from the Opera House board.
But she will still stay involved as a volunteer, doing whatever she can to help out at that beautiful building.
Besides her invaluable work at the Opera House, and being a 4H leader (she still helps the 4Hers with their exhibits at the county fair), and her involvement with the Minnehaha CEOS, Rene is very active in the New Hope Lutheran Church in Minnehaha Springs.
She pitches in and works hard with other church members to raise money for deserving causes – making and selling her famous BBQ sandwiches in June and selling "loaded" baked potatoes during the Autumn Harvest Festival each fall.
As you may have surmised, Rene loves history.
She's been a wonderful help during Huntersville Traditions Days, writing and staging charming, and historical plays for the Friday evening programs.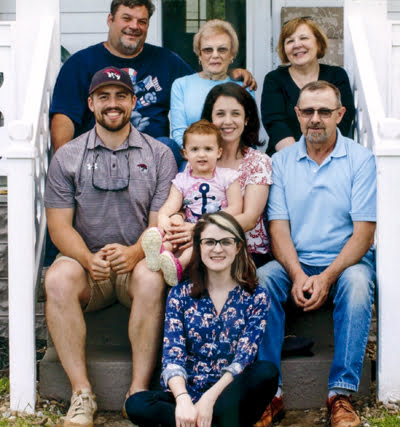 Rene has two children. Her daughter, Pam Pritt, holds a position in the Journalism Department at West Virginia University; and her son, Doug White, owns a computer business in Richmond, Virginia.
Doug plays guitar in his band, Long Strange Night – a popular Beatles and Grateful Dead cover band that will perform at the Opera House again on October 13.
Rene thinks Pocahontas County is a great place to raise a family.
"This is a good place to raise children," she said.
"I loved growing up on a farm and raising my children on our farm. It's a good life."
Rene's been a widow now for 17 years.
She and her 17 year old black and white tuxedo cat, Frisky, keep up with things at her home – the old family home on Douthards Creek affectionately known to all as "The White House."
If you've ever been to her home, you know that Rene's house is like something out of "House Beautiful."
With its pretty gingerbread-trimmed porches, and beautiful original millwork and wood floors, it's truly a lovely example of a Pocahontas County farmhouse.
Rene sets out an impressive garden every year and prides herself on her pretty flower beds, too.
She says she's content to have lived her life on one end or the other of Douthards Creek.
"It's been a good life," she said.  "I'd like to do it all over again.
"Pocahontas County is special.
"I wouldn't want to have lived anywhere else.
"Oh, I like to visit other places, but I'm always happy to come home."
Asked what she wishes for the community, Rene said, "I'd like to see Marlinton grow again. I wish Marlinton could take off and be a boom town again.
"And I'd like to encourage everybody to volunteer and get involved in their community."
And what better example to follow than the one that has been set by Oreana "Rene" White?