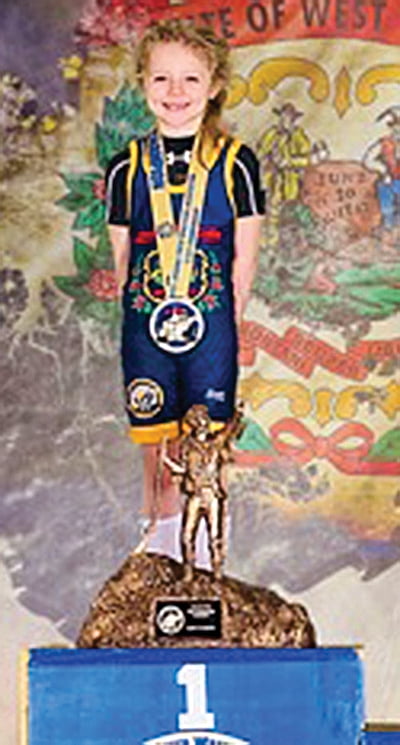 Laura Dean Bennett
Staff Writer
Seven year old Izabella Arbogast, daughter of Amber Arbogast, of Buckeye, is a state wrestling champion.
Although she's only been on the wrestling circuit for two years, Bella is a serious competitor.
She just won the "Six years, under-50 pounds" West Virginia state wrestling title, pinning her final opponent in 43 seconds, to the cheers of her teammates and many wrestling friends from around the state.
Something about watching her nine year old brother, Landen Arbogast, and her cousin, Kaden Stone, son of Gabe and Katie Stone, of Greenbrier County, in their Eastern Greenbrier Youth Wrestling Club matches, inspired Bella to hit the mat herself.
She fell in love with the sport, and she's never looked back.
It didn't take long before Bella was out-wrestling the boys.
She's only lost three of her 57 matches
"Bella has always been athletic, and she just loves to wrestle," her proud grandmother, Shawn Smith, said. 
She began wrestling competitively during the 2016 season when she joined the Eastern Greenbrier Youth Wrestling Club. 
It is quite a commitment for one so young, as the club practices twice a week in Lewisburg and travels to meets almost every weekend during the season.
The EGYWC, which started out as a Greenbrier County club, is open to young people from neighboring counties who do not have wrestling clubs of their own.
Fourteen members of the EGYWC qualified to compete in this year's state titles matches which were held March 10-11. 
The young wrestlers train from November to March, travel to matches around the state to wrestle one day every weekend and finally compete in the state championship which, this year, was held in Beckley.
Bella started with a practice partner – James Godby – who would soon become a teammate and one of her closest friends.
After practicing all year during the 2016 season, EGYWC coach Laura Fisher invited Bella to wrestle in an open meet and compete in the state championship for girls.
She accepted the challenge and amazingly enough, Bella won Girls State Champion for the under 40 pound division.
After that, as a member of the EGYWC, Bella won the state title for girls under 45 pounds.
She competed in the 2017 state championship and placed sixth.
This year, leading up to the state championship, Bella earned an amazing record of 54 wins and three losses.
"Whether she wins or loses, Bella, shakes hands and gets on with whatever is next," Smith said.
And Bella doesn't seem fazed by losing.
"When she loses, she may take a few minutes to think about what went wrong, but that's about it."
Part of Bella's training consists of studying videos of her matches to see what went right and what went wrong.
She obviously takes her wrestling pretty seriously.
She's friends with everyone off the mat – but on the mat, it's all about the win.
It's smiles, waves and hugs all around until time to compete.
Before a match, Bella likes to say, "Today is the day of no mercy."
And she's not a bit intimidated by wrestling with boys.
Of course, her mother is proud of Bella's championship.
And so are her grandparents, Robert and Shawn Smith, of Hillsboro, and Richard and Doris Vandevender, of Droop. 
Bella loves her coach and all her teammates, appreciates her opponents and all the wrestling family and plans to continue in the sport. 
She can keep competing with the EGYWC until she's 15, and then – we'll see.