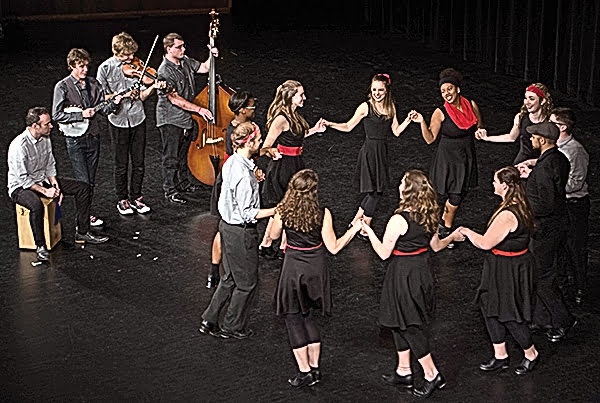 The Pocahontas County Opera House welcomes the Davis & Elkins College Appalachian Ensemble for an evening of traditional music and dance on Friday, April 27, at 7:30 p.m.
The Davis & Elkins College Appalachian Ensemble, a student performance group led by String Band Director Emily Miller and Dance Director William Roboski, is dedicated to bringing live traditional music and dance to audiences in West Virginia and beyond. Composed entirely of students attending D&E, the group features an acoustic string band (fiddle, banjo, guitar, mandolin and bass) and a team of dancers with a diverse range of expertise.
The group focuses on the intersections of different American vernacular forms and their roots, ranging from old-time music and flatfooting to jazz music and tap dance, to Irish sean nós dance, body percussion and numerous traditional American styles of harmony singing. The performances include a variety of regional dance styles, contemporary choreography, and a selection of traditional songs and tunes.
"Performing with Appalachian Ensemble is like building a community – not just among the dancers and musicians, but also across the region," Roboski said. "In return, we are gifted with new tunes, dance steps, stories and friendships."
"Appalachian Ensemble does more than just provide a space for expression," adds musician Scotty Leach. "It preserves and spreads the traditional arts of West Virginia and Appalachia in a way that is visually and aurally appealing. We respect those who came before us while holding in reverence our own interpretations of Appalachian traditional arts."
The Ensemble performs at festivals and concert halls during the school year. The Ensemble also leads workshops in the basics of traditional clogging, body percus- sion and singing styles for both children and adults as part of its mission to bring traditional music and dance to a broad range of audiences around the country.
Tickets are $10 for adults. Youth 17 and younger are admitted free of charge. Advance tickets are available at pocahontasoperahouse.org and at the 4th Avenue Gallery in Marlinton.
The Pocahontas County Opera House is located at 818 Third Avenue in Marlinton. Performances at the Opera House are informal, family-friendly and open to all. The entrance and main seating are accessible to persons with disabilities. Persons with disabilities are encouraged to attend; special accommodations can be arranged upon request by calling 304-799-6645.